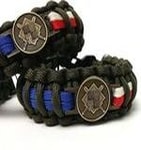 Paracord - survival bracelets
Paracord - survival bracelet is knitted from a few meters quality parachute cord, some bracelets have up to 250 kg load capacity. The bracelet can be used for example for first aid, to build a shelter or emergency descent.
Paracord Bracelet with Original Wolf Pendant made of high quality parachute cord which untied can be used outdoors or in emergency situations.
material 4 mm parachute cord, load bearing capacity 250 kg, pewter
Paracord bracelet with the Wolf Cross (bronze).  The bracelet is made of high quality parachute cord at 4mm in diameter, which has a capacity up to 250kg.  When untied,  the bracelet works as rappel for lowering in case of emergency, it can be used for medical purposes (fixing plates) or…
Paracord bracelet with the Czech Police emblem.  The bracelet is made of high quality parachute cord at 4mm in diameter, with a load bearing capacity of up to 250kg. When untied the bracelet works as rappel for lowering in case of emergency, it can be used for medical purposes (fixing plates) or…