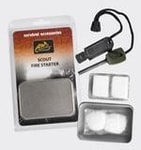 Fire - firestarters, lighters, lights
Fire - firestarters, lighters.
Historical fire steel with a bronze lion. The fire steel is fully functional and made by Arma Epona forge.
Dimensions: 3.5 x 8.2 cm
Material: steel and bronze - lost wax casting
Military Lighter - Clawgear, Austria. Windproof Jet Flame Adjustable micro burner up to 1300°C Piezo ignition Gas-refillable Non-reflective Soft grip surface Quiet open / close securecap Lightweight
Treated wood shavings that will catch a spark. The natural way to start a fire
By Web-Tex, United Kingdom
Electric Glow Stick, Emerson, red. 30 g.
The 6" lightstick is a portable and cost-efficient source of light. Each lightstick is a pliable plastic tube filled with two non-toxic chemical solutions, one held separate in a floating ampule to prevent activation until required. To activate, simply bend the tube and shake. This breaks the…
Rubber Bands Micro 12pcs. Our most versatile piece of equipment, a must have accessory for every basic configuration. Attaching a cable switch on your front grip, fixing your light-sticks on your plate carrier, holding your tourniquet on the shoulder straps of your vest and many more.Mil Spec, made…