fire - firestarters, lighters, lights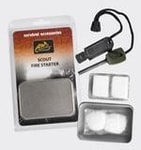 Fire - firestarters, lighters, lights
Fire - firestarters, lighters.
The Viper Tactical MOLLE torch will fit inside the horizontal webbing on most MOLLE and Viper Modular Sysems. body made in lightweight Aluminium with rear metal clip takes just 1 x AA battery (not included) weight: 50 g brightness: 1 watt size: 8.5 x 2 cm
FIREPEN — a pocket-sized innovative metal cutting produc. No access to electricity, acetylene or oxygen, but you need to cut or weld metal? FIREPEN is your solution! FIREPEN is the latest scientific development with no analogues in the world. Its unique chemical composition makes it possible to…
Electric Glow Stick, Emerson, red. 30 g.
Easy to use fire starter - just rub the surface to create many sparks burning at almost 1600°C. Set includes: Fire steel, two fuel tablets, cotton wool Packed in aluminum box measuring 10x6x2cm Resistant to water and frost Weight: 114 g
The 6" lightstick is a portable and cost-efficient source of light. Each lightstick is a pliable plastic tube filled with two non-toxic chemical solutions, one held separate in a floating ampule to prevent activation until required. To activate, simply bend the tube and shake. This breaks the…
Small and compact, the Fire Starter offers years of use. Watertight construction keeps tinder safe and dry, so when you need it, you can trust it. Compact fire starter with ferrocerium rod and metal striker Lanyard to keep product secure and together Emergency Whistle - Integrated into lanyard…
Military Lighter - Clawgear, Austria. Windproof Jet Flame Adjustable micro burner up to 1300°C Piezo ignition Gas-refillable Non-reflective - black mat Soft grip surface Quiet open / close securecap Lightweight