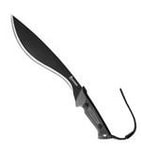 Knives - outdoor
Folding knives and knives with fixed blade - outdoor knives. Brands - Gerber, Wenger, Victorinox, Mikov.
Cleaver for Bushcraft SIRIUS. It is a very high quality and full-tang knife with a material thickness of 6 mm, which gives it a very nice weight of 420 g. Cherry wood was used as the material for the handle. The knife is suitable for many outdoor activities. In addition to cutting, its main…
Hardened spring steel machete made by Arma Epona forge.
Overall length: 65 cm
Blade length: 50 cm
Blade width: 4 cm
Material thickness: 4 mm
Pair steel ČSN 14 260 (54SiCr6)
This all-purpose machete has multiple uses: chop, gather + cut, dig, and sharpen Superior steel provides enhanced strength, corrosion resistance, and ease of sharpening  Gator Grip handle texture provides maximum grip for any situation, wet or dry   A lanyard acts as a restraint against hand…
The blade is made of D2 steel, heat treated to 59HRC. The surface is Acid stonewash (etched and stonewash).
Overall length: 22 cm
Blade length: 8.6 cm
Blade width: 3.1 cm
It's a bottle opener with about nine other tools. At least, that's one way to look at it! These pocket-sized pliers pack multiple functions into a tiny package that fits on a keychain. The Vise gives you more than plier capabilities thanks to a variety of handy tools. Strong mini-pliers Keychain…
Walther MTK 2 440C Stainless The Multi Tac Knife is a toolbox that fits in your pocket. With the holster you can also carry it on your belt. Thanks to its versatile tools, which include a pliers and bit holder, it is one of the best-selling Walther knives. The design of the handle has been improved…
A serious tool: With its ergonomic form and rugged design this utility knife makes a strong impression. The one-hand opening folder with a linerlock and dual thumbstuds comes with a titanium gray coated tanto blade and partial serration. The Swedish 12C27 special steel ensures a high edge retention…
Practical from end to end: This small version of the OSK is designed explicitly for work outdoors. The massive blade, made of black coated 440A stainless steel and with a special grind has a 5-cm-long groove on the cutting edge, making it easy with a second hand close to the point to shave bark…
Blade length: 65 mm
Handle length: 100 mm
Total length: 165 mm
Weight: 110 g
Walther Emergency Rescue Knives are carefully designed tools that can save lives. Their 440 stainless steel blades have a black coating and a partial serration on the rear third for cutting cords, webbing and belts. The Walther ERK has a linerlock mechanism. In addition to the rubber inlays each…
The modern version of the traditional jungle tribesmen's machete, the Broadcut Machete is as effective as the name suggests. The heavy fine edge blade is corrosion resistant and makes short work of dense brush. An innovative hook + cut notch is engineered into the blade, an ideal tool for…
About Gerber Established in 1939 in Portland, Oregon, USA, Gerber is an American focusing to give hunters, soldiers, survivalist and tradesmen the tool they need. All their products are designed in the USA and every Gerber product is backed by their famous quality, reliability, innovation and…
Gerber questioned hardcore anglers from across the nation, filtering that feedback into the design of one seriously inspired fillet knife: the Controller. Across different locations and species, one point rang true: an insightful fish fillet knife can make short work of messy business. No matter if…
The Walther MachTac 4 - a top class bush knife is delivered including a nylon sheath with a belt loop. Product features: Compact and handy machete Matte black coated tanto blade Rubberized polymer handle Technical specifications: Blade material 440 Locking fixed Blade shape machete Handle…
Perhaps the most simply designed tool in your arsenal, this key chain companion should not be underestimated. With 7 essentials functions built in, this airline-safe tool is ideal for everyday travel and tasks. A titanium nitride coating protects against corrosion for long use. Features 7 Functions…
Gerber Knives offers this special combo pack with both a Paraframe I folder and the smaller Mini Paraframe knife. The larger knife has a combo edge clip point blade, while the smaller has a plain edge clip point blade. Both finished with a Mossy Oak pattern handle. Features: Paraframe I Overall…
Savanna Knife with Fixed Stainless Steel Blade by JACK PYKE.
blade stainless steel, handle rosewood, sheath nylon
total length 35 cm (13.5")
blade length 22 cm (8.5")
The Gerber Machete Junior is easy to carry given its compact and light weight design. Small enough to fit inside a backpack. 18.75 inch total length. The Gator Machete sports our proprietary Gator rubber grip for ergonomic control while using either the fine edge blade on one side, or the saw on…
The ultimate multitool is part of the Gerber Bear Grylls Survival Series of gear. This collaboration brings together Gerber's 70-plus years of knife and gear expertise with Bear Grylls' extensive outdoor survival and adventure experience to create a one-of-a-kind line of knives, tools, and gear. …
Gerber Gator Bush Machete Built with full tang construction, the Bush is Gerber's version of the classic multi-purpose design. The Gator Bush Machete's sturdy handle wrapped in the classic Gerber Gator Grip keeps it snug in your hand while being leveled at underbrush. This knife expertly helps you…