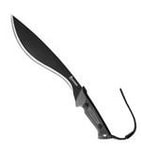 Knives - outdoor
Folding knives and knives with fixed blade - outdoor knives. Brands - Gerber, Wenger, Victorinox, Mikov.
Intended use: military / sports
Blade: 1095 carbon steel - HRC 56-58
Treatment Blade: Teflon
Handle: Kraton ® GBlade
Blade Thickness: 4mm
Total length: 430mm.
Weight: 600g.
Sheath: tactical leather and Cordura
Perhaps the most simply designed tool in your arsenal, this key chain companion should not be underestimated. With 7 essentials functions built in, this airline-safe tool is ideal for everyday travel and tasks. A titanium nitride coating protects against corrosion for long use. Features 7 Functions…
The new World Legal Urban Tactical Knife was developed with one goal in mind, make a great knife that anyone can carry, anywhere in the world. World Legal Knife Balancing form with function, the World Legal was born from one idea: make a great knife that can be carried anywhere in the world.*…
Gerber Knives offers this special combo pack with both a Paraframe I folder and the smaller Mini Paraframe knife. The larger knife has a combo edge clip point blade, while the smaller has a plain edge clip point blade. Both finished with a Mossy Oak pattern handle. Features: Paraframe I Overall…
With a full tang, 420HC steel blade and rubberized diamond-texture grip, this is a knife you can rely on. The MOLLE-compatible multi-mount sheath system offers optimal customization, keeping your knife ever at the ready in combat situations. Plain edge, full tang 420HC steel blade Ceramic blade…
PRAKTIK Multifunctional Pocket Knife with linerlock, contains bottle opener/screwdriver, can opener, cross screwdriver, pike and ring for attaching to a belt. material: blade - stainless steel 420, 53-55 HRc, handle - plastic ergonomic handle manufacturer Mikov, Czech Republic
CROCODILE Pocket KNIFE with Backlock for everyday use, very light, resistant handle fits perfectly in the hand. material stainless steel blade 420-53-55 HRc, handle plastic manufacturer Mikov, Czech Republic
BRIGAND Knife with Sheath for work, outdoors as well as fishing.  material blade stainless steel 420, 53-55 HRc, handle hardened plastic manufacturer Mikov s.r.o., Czech Republic
FANG Knife with Guard and Leather Sheath favourite with outdoorsy people and hunters, ergonomical handle. material: blade, guard - stainless steel 420, 53-55 HRc, handle - hardened plastic manufacturer Mikov, Czech Republic
RESCUE Automatic Multifunctional Knife for the Emergency forces as well as difficult situations in everyday life. Easy to open with one hand. Includes standard blade, rescue blade, hook for safe cutting of seat belts, hammer for breaking glass, glass knife and belt klip. Tested by the Czech…
DIVER Multifunctional Knife for Divers with Nylon Sheath mainly for emergency situations underwater. Contains tearing hook, partially serrated blade and glass hammer/breaker in handle. material: blade stainless steel 440A, HRc 565 hook for tearing fishing nets etc. partially serrated blade for…
Savanna Knife with Fixed Stainless Steel Blade by JACK PYKE. blade stainless steel, handle rosewood, sheath nylon total length 35 cm (13.5") blade length 22 cm (8.5") includes blade sharpener and firestarter
Morakniv Green Fixed blade - Stainless Steel - Green. Blade Stainless steel Handle Polyamide Sheath Plastic Weight: 134 g Overall length: 226 mm Blade length: 109 mm Blade thickness: 2.5 mm Country of origin: Sweden
Magnum Caveman Damascus knife.
Material of the blade: Damascus steel
Material of the handle: wood
Overall length: 19.4 cm
Blade: 8.2 cm
Width of the blade: 2.7 cm
Weight: 209 g
Böker Plus Piranha - knife.
Material of the blade: 440-C
Material of the handle: G-10
Overall length 15.5 cm
Blade: 7.5 cm
Thickness of the blade: 3.9 cm
Weight: 101 g
Knife developed and adapted to meet the needs of craftsmen, with a blade made from stainless Japanese knife steel. The holster can be attached to both a belt and a button on your work clothes. If your belt is thick, cut away the small pin on the cover. It features a unique function for…
Craftsman's knife with friction grip. Developed and adapted to the needs of craftsmen. It features a unique function for attaching the holster around a button on your work clothes so that it does not come loose whilst still being easy to remove. The cutting edge has been sharpened in several…
Our all-round knives include everything from ergonomically designed knives for professionals to simpler utility knives. No matter your preference, the knife you choose will maintain its consistency, high-level quality, be sharp, and have maximum edge lifetime. With a blade of carbon steel and…
The Bear Grylls Compact Parang is a modern version of the traditional jungle tribesmen's machete in a convenient size. Its blade makes short work of branches and vines. This Parang features an angled blade, ideal for clearing brush or limbs. Robust high carbon steel blade, enhances strength,…
The Gerber Machete Junior is easy to carry given its compact and light weight design. Small enough to fit inside a backpack. 18.75 inch total length. The Gator Machete sports our proprietary Gator rubber grip for ergonomic control while using either the fine edge blade on one side, or the saw on…