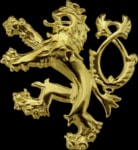 Golden jewellery
Viking, Celtic, Slavic Golden jewellery.
Gold CZECH DOUBLE TAILED LION Pendant. This noble animal has featured on the Coat of Arms of Bohemia since the 12th century. According to a legend a son of a Czech prince called Bruncvík (Brunswick) decided to gain a more noble symbol for his coat of arms. He travelled the world with his retinue…
Gold SLAVIC SUN WHEEL PENDANT of Kolovrat, also known as Kolowrat or Collowrath, is in the Modern age considered a panslavic pagan symbol of the Sun. The symbol can be found in architecture and on embroidery and pottery in most Slavic countries. Its massive expansion is the matter of the last…
Gold Druid's Mistletoe Pendant. The Celtic Druids observed a ritual of oak and mistletoe which meant cutting mistletoe from a sacred oak, collecting it into a white sheet and making an elixir for infertility. Material 14K gold Size 3.2 x 4 cm Weight approx. 3.85 g The price may vary according to…
Mac Tíre CELTIC WOLF Gold pendant, inspired by the art of the Book of Kells. Mac Tíre is the Irish expression for this animal, in Ireland extinct, but still surviving in the Celtic mythology. Material 14K gold Size 2 x 4 cm Weight approx. 7.75 g The price may vary according to the actual weight of…
Troll Cross Gold Viking Amulet. So called Troll Cross is a strong protective symbol of the old Scandinavian folklore against trolls and other creatures that lurk in the forest. This pendant protects the wearer, animals and homes against evil in general. The pendant is based on the rune called…
THOR'S HAMMER Gold Replica of a hammer from Romersdal, Denmark, which is exhibited at the Danish National Museum in Copenhagen. Thor's Hammer, or Mjöllnir, is God Thor's magical weapon. The hammer is unbreakable, it always hits the target and then comes back to the owner's hand. The hammer flies…
Griffin GOLD Pendant. The griffin (also griffon or gryphon) is a legendary creature with the body, tail and back legs of a lion, its wings and head belong to an eagle. Like fenix it is associated with rebirth. Material: 14K gold Size: 2.1 x 3.5 cm Bale on reverse 5 x 9 mm Weight approx. 6.80 g The…
Celtic Boar Gold Pendant. Inspired by an artefact found at the Loire River, France. Wild boar is, besides birds of prey, the most frequently depicted animal in Celtic art. This indicates that it had a special significance in society. The available archaeological and numismatic evidence also…
Golden OAK LEAF, beautifully organically shaped pendant. Oak tree is a sacred tree in many cultures, in Slavic mythology it is dedicated to Perun, the God of Lightning and Thunder. Material 14K gold Size 2 x 3.6 cm Bail 4 x 6 mm Weight approx. 6.25 g The price may vary according to the actual…
VALKYRIE GOLD Viking Pendant. According to the Norse mythology Valkyrie is a female figure who in battle decides who may live and who may die. Then she leads the chosen dead warriors to Valhalla, the afterlife Hall of the Slain. Material 14K gold Height 3.5 cm Weight approx. 6.35 g The price may…
AXE OF PERUN Golden Slavic Pendant, replica of a talisman that is also known as "hatchet amulet".  It is an archaeological artifact that was worn as a pendant and shaped like a battle axe. It was found in parts of Scandinavia, Russia, Belarus and Ukraine. Perun is the pre-Christian God of Thunder…
KOLOVRAT with GARNET Gold Slavic Pendant. A unique piece of jewellery as it is probably the first one in the world combining the symbol of Kolovrat with jewellery making methods of granulation and filigree that were very popular in early Slavic Empires, such as the Moravia Magna Empire. The…
Ægishjálmur GOLD MAGICAL Rune Amulet. This symbol, also known as Helm of Awe or Helm of Terror, is one of the Icelandic magical staves. It is believed to possess powerful qualities of protection against evil or injustice. It was used by warriors to induce fear in their enemies' hearts and to…
Valknut Gold Viking Pendant. The Valknut (pronounced "VAL-knoot") is one of the most widely discussed yet enigmatic of all of the Norse mythological symbols. It appears on several runestones and pictorial memorial stones from the Viking Age on the Swedish island of Gotland, as well as on artefacts…
Gold Roman Phallic Pendant, crafted on the basis of an artefact discovered in Rome (2nd-3rd century). These pendants were widespread in the whole Roman Empire with the largest collection found in the Roman settlement Camulodunum (now in England). iT is a fairly universal amulet protecting the…
Gold CELTIC Crow Pendant with a Newgrange Spiral. The Celtic Godesses Badb, Macha and Nemain are associated with crows and ravens as well as Nantosuelta, the Gaulish Water and Healing Goddess. Newgrange (Sí an Bhrú, Ireland) is over 5.000 years old prehistoric monument North of Dublin, that…
Golden SLAVIC SVARGA Amulet, the Sun symbol of the God Svarog, the God of the Heavenly Light and Fire. Material 14K gold Weight approx. 6.25 g Diameter approx. 3 cm Bail size 4 x 7 mm The price may vary according to the actual weight of the item
Golden Pendant of Mighty Slavic God of Thunder and Sky, Perun. The design of the pendat is inspired by an artefact depicting the God Perun surrounded by rays and also by illustrations of Bohemian artist Mikolas Ales. Our Perun featues a hood - symbol of spirituality, moustache - representing…
CELTIC DEER Gold Pendant.
Material 14K gold
Size 3.2 x 4 cm
Weight approx. 4.90 g
Bail on reverse
The price may vary according to the actual weight of the item
Ægishjálmur GOLD MAGICAL Rune Amulet. This symbol, also known as Helm of Awe or Helm of Terror, is one of the Icelandic magical staves. It is believed to possess powerful qualities of protection against evil or injustice. It was used by warriors to induce fear in their enemies' hearts and to…