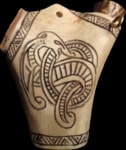 Deer antler products
Deer Antler Accessories - Slavic and Viking pendants, deer antler salt cases and bone needle cases, viking antler pendants, bone belt buckles.
Decorated beard ring. Each piece may vary from the photos. If you want to choose the One for you, we can send you a photo of our beard rings currently in stock. Deer antler Inner diameter 0.8 cm Height 1 cm
Earrings made of antler.
Length ca 3 cm.
Each pair can be different from the illustrative photos, if you want ask us for current stock image.
Handmade Antler Carved Pendant crafted in Viking  art style.

Material European deer antler
Height: approx. 6 cm
Hole for a cord: 3 mm
Oak Leaf BUTTON carved from Deer Antler.
material deer antler
length 4.5 cm
Well crafted Viking Needle Case that is carved in deer antler. Size circa: 3.0 x 15 cm. Manufactured in Bohemia. Unique artifact also for collectors.
Button from the deer's antler - best buttons for medieval or LARP costumes. Average size: 5,5 cm.