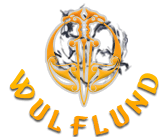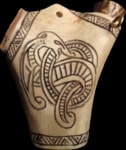 Deer antler products
Deer Antler Accessories - Slavic and Viking pendants, deer antler salt cases and bone needle cases, viking antler pendants, bone belt buckles.
Decorated beard ring. Each piece may vary from the photos. If you want to choose the One for you, we can send you a photo of our beard rings currently in stock. Deer antler Inner diameter 0.8 cm Height 1 cm
Earrings made of antler.
Length ca 3 cm.
Each pair can be different from the illustrative photos, if you want ask us for current stock image.
Handmade Antler Carved Pendant crafted in Viking  art style.

Material European deer antler
Height: approx. 6 cm
Hole for a cord: 3 mm
Hand Made THOR Carved Pendant with Runic Alphabet. In Nordic mythology Thor, the son of Odin, is the God of Thunder, Rain and the Fertility of Earth. He is oftern portrayed with a hammer, which is known as Mjölnir. Made from European deer antler Height approx. 6 cm Opening for cord 3 mm
Hand made carved pendant with "ODIN"  inscription in a runic alphabet. From earliest times Odin was a war god, and he appeared in heroic literature as the protector of heroes; fallen warriors joined him in Valhalla. The wolf and the raven were dedicated to him. His magical horse, Sleipnir, had…
Oak Leaf BUTTON carved from Deer Antler.
material deer antler
length 4.5 cm
Well crafted Viking Needle Case that is carved in deer antler. Size circa: 3.0 x 15 cm. Manufactured in Bohemia. Unique artifact also for collectors.
Button from the deer's antler - best buttons for medieval or LARP costumes. Average size: 5,5 cm.