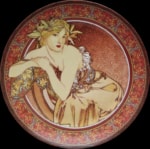 Porcelain plates
Czech porcelain plates - Carlsbad china.
High-quality Czech Porcelain Dessert Plate. material porcelain diameter 25.5 cm weight 400 g microwave & dishwasher safe manufactured by Bohemia Porcelain 1987, Czech Republic
Bowl for compote, Rococo, Forget-me-not. Original Czech Carlsbad porcelain. Dishwasher and microwave safe.
Height: 5cm
Diameter: 24cm
Carlsbad porcelain
Plate Alphonse Mucha - Bohemia. Hanging plate of quality Czech porcelain with two drill holes on the back for easy hanging. Size: 19 cm.