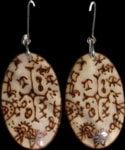 Saami jewellry, Lapland
Handmade Saami Jewellery from reindeer antler (necklaces, earrings, bracelets and brooches). These shamanic talismans are nearly unknown in our parts, and are made for us in Sápmi (Lapland) about 150 km north of the Arctic Circle in Finland (Rovaniemi). We import these for your delight, along with other regional products such as reindeer furs.
Unfortunately, there are no products in this category.