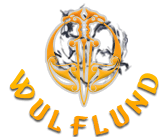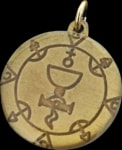 Magical amulets
Magical and mystical pendants connected with various cultures througout history. You can choose pentagrams, Greek and Roman amulets, Egyptian talismans, alchemical symbols, Buddhist and Hindu symbols, magical Jewish talismans or Aztec protective signs.
Pentacle Silver Stud EARRINGS.
material silver
size 0.8 cm
weight 1.1 g
Bronze bangle with well a pentacle.
A pendant of Ankh,  also known as the Cross of Life. An egyptian hieroglyphic symbol for life, both earthly and eternal.
Material: bronze
Size: 1.7 x 3 cm
OM, bronze pendant of a sacred syllable of Hinduism.
Material bronze
Size 2.3 cm in diameter
Pentagram Bronze PENDANT.
Material bronze
Size approx. 2.9 cm
Manufactured by Wulflund
The royal seal - Suppiluliuma II. In later years it became a talisman, that was supposed to help in gaining power and honour, and help expanding  and conquering new territories. It is belived to support confidence, leadership and management skills and help any leader gain recognition and loyalty of…
Talisman - Aztec calendar. Pendant is additionally provided with a thin layer of resin, which largely prevents the oxidizing of the metallic constituents of the amulet.
Material tin alloy
2.8 cm in diameter
Bronze Egyptian pendant. "Udyat - sacred eye of Horus" (the God of Heaven) symbolizes foresight and knowledge gained through sensory perception of the world. He gives eternal sensitivity and perception. Also refers to the constant presence of the Gods, who know and see everything - this symbol…
PENTACLE, bronze talisman, size approx. 2.2 cm in diameter. Material: bronze. The pentagram is a symbol of witchcraft. The pentagram tells us that we have the ability to bring Spirit to Earth; this applies to every area of practical day-to-day living, as well as spiritual thought. The ability …
CRANE, talisman symbolizes vitality and strength until the late years and helps with creative activities. Pendant is casted  from tin alloy and covered with layer of resin Size 2.4 cm
HARMONY, pendant. Symbolism: finding lasting love and understanding. Pendant is provided with a thin layer of resin, which largely prevents oxidizing of the metallic constituents of the amulet. This is a very important feature, since most of these amulets on the Czech market lacks a resin coat and…
ATLANTIS, talisman. Symbology: this pendant is crafted as a bioenergetic emitter, that renews harmonious flow between the cosmic and Earth energy. Pendant is casted (tin alloy) and covered with a protective layer of resin Size 1.4 x 3.5 cm
The WINGED CROSS pendant. Symbology: The pendant is designed to help develop healing power and sensitivity.
Pendant is casted (tin alloy) covered with layer of resin
Size 3.2 x 4.2 cm
ANKH Ancient Egyptian Symbol Pendant. Ankh, also known as the Cross of Life, is egyptian hieroglyphic symbol for life, both earthly and eternal. Material casted tin alloy treated with layer of resin Size 2.2 x 5 cm
Yin and Yang pendant. A well known symbol of Chinese philosphy depicts a relationship between seemingly opposite forces. Pendant is casted (tin alloy) and covered with layer of resin Size circa 2.5 cm in diameter
Freemasons pendant En coronatorum.  "En coronatorum" meaning "crowned".  The four  Templar crosses at the ends of the arms of the central cross symbolize Quatuor Coronati. Material: tin metal alloy Diameter: 3.3 cm
Magic Code of Alessandro Cagliostro Hand Casted Double Sided Pendant. Alessandro Cagliostro, alias Giuseppe Balsamo, was an Italian adventurer and self-styled magician, who became a celebrity associated with European royal courts pursuing various occult arts. Material tin alloy coated with…
Hand casted pendant - CROSS OF WEALTH AND HAPPINESS. Talisman represents abundance, wealth, safe home, fertile earth and abundance of food and water. Material tin alloy coated with antimony Size 3 x 3 cm
Pendant of Egyptian Queen Nefertiti. Nefertiti was a queen of the 18th dynasty in  ancient Egypt, wife of the Pharaoh Akhenaten Amenhotep IV. She was made famous by her bust (now in Berlin's Neues Museum) which is one of the most copied works of ancient Egypt. It was attributed to the sculptor…
The Sri Yantra (or Sri Chakra) is a form of mystical diagram (yantra) used in Hinduism and Buddhism. It consists of nine interlocking triangles that surround a central point (known as a bindu). These triangles represent the cosmos and the human body. Bindu represents the cosmic center. The…