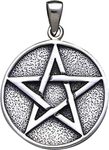 Jewellery and pendants
Wicca, Pagan Witchcraft pendants, talismans and amulets.
No piece of jewellery is ordinary and the most valuable of them should fulfill at least the following criteria: high quality of craftsmanship, careful choice of materials and an original and interesting design. We dare say this jewel meets them all and has even more. It contains history and a soul…
PENTACLE, bronze talisman, size approx. 2.2 cm in diameter. Material: bronze. The pentagram is a symbol of witchcraft. The pentagram tells us that we have the ability to bring Spirit to Earth; this applies to every area of practical day-to-day living, as well as spiritual thought. The ability …
Casted PENTAGRAM Pendant in a Circle. 
material: tin alloy covered with layer of resin to prevent oxidation
diameter: 3 cm
Pentacle Pendant.
Material sterling silver
Size cca 2.9 cm in diameter
Weight cca 3 g