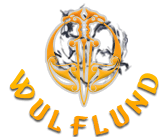 renaissance swords, rapiers, sabres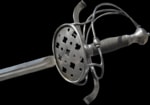 Renaissance swords, rapiers, sabres
Renaissance weapons: rapiers, epées and backswords. Musketeers' Baroque weapons for the Thirty Years' War.
These swords are made from high carbon spring steel (54SiCr6) , and usually tempered to a hardness of 52 – 54 HRC.
Replica of Hungarian Saber dated back to the 9th to 10th century, locality: Karos-Eperjeszög.
Overall length 92 cm
Blade length: 75 cm
Battle Ready Replica of Renaissance Cavalry Sword.  Material spring steel 54SiCr6 Hardness approx. 50 - 52 HRC Overall length 95 cm Blade length 77 cm Width of guard 14 cm Sword by Wulflund
BLUNT Battle Ready Replica of Rapier for re-enactment. Material spring steel 54SiCr6, hardness approx. 50 - 52 HRC Leather grip Overall length 94cm Blade length 76 cm Width of guard 18 cm Three fullers One blunt edge Possible to make sharp on request Sword by Wulflund
Battle Ready Replica of Swedish Sword for re-enactment. Material spring steel 54SiCr6, hardness approx. 50 - 52 HRC Overall length 103 cm Blade length 86 cm Width of guard 17.5 cm Sword by Wulflund
Battle Ready Sword with Ring Guard. Material: spring steel 54SiCr6, hardness approx. 50 - 52 HRC Overall length: 92 cm Length of blade: 75 cm Width of guard: 19 cm  Sword by Wulflund
Battle Ready Renaissnace Sword. Material spring steel 54SiCr6, hardness approx. 50 - 52 HRC Overall length 123 cm Length of blade 94 cm Width of guard 26 cm  Weight 2,30 kg Sword by Wulflund
Battle Ready Replica of Renaissance Cavalry Sword.  Material: spring steel 54SiCr6 Hardness approx. 50 - 52 HRC Overall length 95 cm Blade length 77 cm Width of the guard 14 cm Sword by Wulflund
Battle Ready Collectible Dussack Replica of a German artefact dated back to the 16th century designed for re-enactment. Material: spring steel 54SiCr6, hardness approx. 50 - 52 HRC Overall length 81 cm Blade length: 62 cm Width of the guard: 22 cm Three fullers, one blunt edge, can be…
Total length cca 108 cm
Blade 88 cm
Weight 1.4 kg