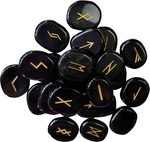 Runes
Runes - hancrafted wooden, glass, mineral or tin runes.
So called Troll Cross is a strong protective symbol of the old Scandinavian folklore. It protects people, animals and homes against evil and it will help you in a forrest if you encounter trolls and other unfriendly creatures. The pendant is based on the rune called Othila, a strong Germanic…
Troll Cross Bronze Pendant amulet in a shape of Odal rune,  originally used to be worn as a protection against Trolls.
Material: bronze
Size: 2.2 x 3.2 cm
Obsidian Rune Set consisting of 24 tumbled, polished snowflake obsidian gemstone runes handcrafted with engraved, painted lettering.  Snowflake Obsidian is associated with absorbing negativity, and enhancing serenity. Runes are typically used as divination tool to obtain information from the higher…
Discounted set of 24 pieces of Runic Pendants, with a free leather cord for each piece. For re-sellers and for those looking for a larger amount of presents. Material: pewter
Rune set with 25 pieces of glass rune "stones". Leather pouch is included.
On each dice there are 6 runic symbols so 6 x 4 = 24 runes. Price involves wooden box. Material: tin