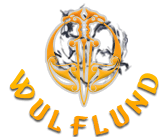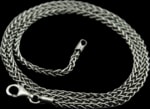 Cords, boxes, chains
Accessories for jewellery – silver chains, leather cords, boxes for earrings or necklaces, products for polishing silver, display needs, components for jewellery making.
VIKING Sterling Silver Neck Chain.
Chain of high quality made of Stainless Steel. Its appearance and the length is suitable for wearing both alone and in combination with pendants. Suitable for both men and women.Closes with lobster clasp.Length: 50 - 52 cmWidth: 0,3 cmStainless steelUnisex
Quality Jewelry Box (ring, pendant, earrings).
Sterling Silver Chain. This chain is suitable for massive and heavy pendants.
length 45 cm
weight 5.5 g
Jewellery box for earrings or pendants, size: 60 x 60 mm.
Braided Leather Bolo with Viking Wolf's Heads Terminals. Inspiration: wolf cross from the locality of Fossi, Iceland. You can attach a pendant using the openings in the beast mouth. Fenrir is the eldest son of the God Loki and the Giantess Angrboda. The Gods have bound monstrous Fenrir but his fate…
With this special jeweller's cloth you can polish your jewels by hand easily and quickly. It removes oxides of gold and silver. Do not use water. Size: 20 x 24 cm. Made in Germany.
Material sterling silver
According to size approx. 45, 50 cm
PAN SLAVIC TRICOLOUR, overall length is 1 m, width 10 mm.  If you put into a shopping cart with two or more pieces, we will send you your required length (without cutting).
Textile Cord for Jewelry with adjustable length.