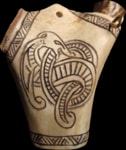 Living History, Crafts
Reenacting and Living History Shop. Equipment for the Bronze Age Reenacting, the Iron Age (Celtic), the Viking Age, the Medieval period, Native Americans (North American Indians) or Renaissance Reenactors - leather products, hand-carved bone replicas (needles, pins, bone combs), forged ancient and medieval knives, ancient bronze talismans and Celtic statues, Native American Beadwork.

These goods are of such quality that they could have been made and used by our ancient ancestors.
Bronze Taranis Wheel Pendant Replica of a Taranis wheel found in a Celtic settlement known as Stradonice Oppidum, SW of Prague, the Czech Republic. Taranis, one of the most powerful Celtic Gods, is associated with the natural forces such as the wind and lightning. Unusual pendants…
The perfect oil for long-term preservation of bare metallic parts, even in extreme conditions (-50°C up to 100°C). This oil creeps between metal and moisture, infiltrates hairline cracks, cleans, keeps surfaces smooth, does not get sticky or resinify either. Gunex is free from silicone…
Taranis one of the most powerful Celtic Gods, is associated with the elements of wind and lightning. In many Iron Age localities bizzare pendants resembling a wheel were found. We are offer you a replica of Taranis wheel that was found in a locality of Stradonice Oppidum, the Czech Republic.The…
Replica of La Tene Celtic Deer Talisman. This pendant was found in a Celtic settlement  known as Oppidum of Stradonice, SW of Prague, the Czech Republic. One of the largest Celtic cities in an area of Central Europe with approx. 90 ha where in 1877 a treasure of 200 golden coins was uncovered.…
Torches crafted from traditional materials using a unique original technology, long lasting bright flame without an unpleasant smoke and smouldering, easy to handle. A great accompaniment to historical events such as markets and parades as well as social events, fire shows or outdoor gatherings. …
Celtic glass necklace, la téne period replica, blue.
High quality museum replica of an original find
Celtic glass necklace, la téne period replica.
High quality museum replica of an original find
BISON EPOXY UNIVERSAL 24 ml.
UHU PLUS endfest 300 glue 24 ml.
A lucet is a tool used in cordmaking or braiding of materials in clothes manufacture. Historians believe this tool dates back to the Viking and Medieval periods. Size: 5 x 14 cm. A video on how to lucet: https://www.youtube.com/watch?v=kh3l85F9LAE
The pattern on the bead comes from artefacts from a rich burial site of Prague Castle - Lumbe Garden, another similar one features on items found at the Strahov cemetery, the 9th-11th century, Central Europe. The glass bead is opaque.  Material: opaque glass  Length: approx. 15 mm
Replica of a Celtic glass bead. This type of beads was common in Europe since 800 CE. Material: glass Length:  18-24 mm 600-175 BCE (HaD-LtC1)
Special balm for leather care (shoes, jackets, bracers, leather armour, scabbards, bags etc.). Greatly increases water repellent qualities. Tested by the Czech Institute of Health Care. Made from wax and other leather protecting additives Apply directly on leather using a sponge, repeat…
A fully functional Stitching Horse Bench. This bench will be delivered dismantled.
DUE TO THE SIZE ONLY COURIER SHIPPING IS POSSIBLE.
Corrosion Protection Spray ProTec provides -
rust protection
maximum corrosion protection
lubrication effect
high cleaning and solvent power
Are you looking for rust protection and care for your knife? Food safe and effective? Ballistol H1 is primarily suitable for food processing industry, e.g. beverage manufacturers, butchers, bakeries, etc. Even households, which place value on a high-quality care of their domestic appliances use…
Handmade Bone Cut Gaming Dice.
Size: 1 x 1 cm
Price per one piece
Wood Glue. White, dries to a clear, strong, permanent bond.
Decorated beard ring. Each piece may vary from the photos. If you want to choose the One for you, we can send you a photo of our beard rings currently in stock. Deer antler Inner diameter 0.8 cm Height 1 cm