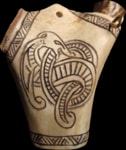 Bushcraft, Living History, Crafts
Reenacting and Living History Shop. Equipment for the Bronze Age Reenacting, the Iron Age (Celtic), the Viking Age, the Medieval period, Native Americans (North American Indians) or Renaissance Reenactors - leather products, hand-carved bone replicas (needles, pins, bone combs), forged ancient and medieval knives, ancient bronze talismans and Celtic statues, Native American Beadwork.

These goods are of such quality that they could have been made and used by our ancient ancestors.
$51.18
Catalogue number: ETC10
In stock
$56.51
$51.18
Catalogue number: BUS170
In stock
$24.52
Catalogue number: BUS7412
In stock
$62.91
Catalogue number: BUS748
In stock