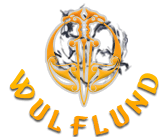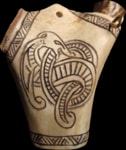 Bushcraft, Living History, Crafts
Reenacting and Living History Shop. Equipment for the Bronze Age Reenacting, the Iron Age (Celtic), the Viking Age, the Medieval period, Native Americans (North American Indians) or Renaissance Reenactors - leather products, hand-carved bone replicas (needles, pins, bone combs), forged ancient and medieval knives, ancient bronze talismans and Celtic statues, Native American Beadwork.

These goods are of such quality that they could have been made and used by our ancient ancestors.
A strong, massive Celtic long knife, which is based on Celtic knives. We adapted it with its parameters so that it can be used for bushcraft. It is a reliable helper in the forest made of one piece of spring steel. He is not a little knife, he is a real friend during your wanderings through the…
Hand Forged Early Medieval SEAX. This kind of weapon/tool was used during the Viking and Anglo-Saxon Age as a weapon and as an everyday tool. We manufactured this knife sharp for use in the outdoors. Material: 54SiCr6 high carbon spring steel, wood Overall length: 34 cm Blade width: 55 cm Blade…
Comfort Bird Carving Kit – Complete Starter Whittling Kit for Beginners Adults Teens and Kids DIY01 What does our whittling kit include? 1 cherry and 1 basswood wood blocks super sharp wood carving knife properly sized birdie cut-out cut resistant tape premium quality leather strop kit sandpapers…
Cleaver for Bushcraft TORBEN (Thunder Bear) inspired by the Old Norse name "þórr" - thunder and "bjǫrn" - bear. It is a very high quality and full-tang knife with a material thickness of 6 mm, which gives it a very nice weight of 440 g. Part of the blade is double-edged at the tip and the knife…
Love Spoons are a wonderful style of wood carving that began in the mid-1600s as a courtship gift. Young men were creating such spoons to show love to the intended bride. The intricacies and themes carved on the spoon's handle had symbolic meanings. Today the giving of Love Spoons has been expanded…
Bronze Taranis Wheel Pendant Replica of a Taranis wheel found in a Celtic settlement known as Stradonice Oppidum, SW of Prague, the Czech Republic. Taranis, one of the most powerful Celtic Gods, is associated with the natural forces such as the wind and lightning. Unusual pendants…
The LEATHER BOTTLE. Volume cca 0.5 L. This product is made by the same technology as it always used to be in the past - inner surface is covered by wax. Because of European strict hygienic laws and rules we sell this item as a decoration.
S15X – Edition Starter Chip and Whittle Knife Set Special edition of best-seller set. Premium quality BeaverCraft tools with walnut handles in a new leather pouch. This carving set gives carvers a wide range of capabilities – from very detailed projects to roughing out the wood. Includes a roughing…
Historical fire steel with a bronze lion. The fire steel is fully functional and made by Arma Epona forge.
Dimensions: 3.5 x 8.2 cm
Material: steel and bronze - lost wax casting
The perfect oil for long-term preservation of bare metallic parts, even in extreme conditions (-50°C up to 100°C). This oil creeps between metal and moisture, infiltrates hairline cracks, cleans, keeps surfaces smooth, does not get sticky or resinify either. Gunex is free from silicone…
Leave your modern bags at home and involve this bag in your outfit. Size: 25 x 47 cm. Material: leather.
Hand forged and functional firesteel.
Taranis one of the most powerful Celtic Gods, is associated with the elements of wind and lightning. In many Iron Age localities bizzare pendants resembling a wheel were found. We are offer you a replica of Taranis wheel that was found in a locality of Stradonice Oppidum, the Czech Republic.The…
Replica of La Tene Celtic Deer Talisman. This pendant was found in a Celtic settlement  known as Oppidum of Stradonice, SW of Prague, the Czech Republic. One of the largest Celtic cities in an area of Central Europe with approx. 90 ha where in 1877 a treasure of 200 golden coins was uncovered.…
Axe of Perun, aka Hatchet Amulet, Replica of a battle axe pendant found in parts of Scandinavia, Russia, Belarus and Ukraine. Perun is a pre-Christian God of Thunder and Lightning and is the highest God of the Slavic pantheon. Some experts connect the amulet to the Norse culture. Material:…
Vegvísir "That Which Shows the Way", is an icelandic magical stave intended to help the bearer find their way through rough weather. "If this sign is carried, one will never lose one's way in storms or bad weather, even when the way is not known." Enamel Mug, a good old friend in nature and at home…
Enamel Mug, a good old friend in nature and at home. Inspired by Tanum petroglyphs, Sweden, where more than one thousand rock carvings dated to the Bronze Age, an incredible source depicting people with arms, animals, wagons and ships, have been discovered. The site was listed as UNESCO World…
Enamel Mug, a good old friend in nature and at home.
Height: 80 mm
Diameter: 80 mm
Volume: 380 ml
Enamel Mug, a good old friend in nature and at home.
Height: 80 mm
Diameter: 80 mm
Volume: 380 ml
Muurikka Outdoor Smoker for Campfire Compact smoker for gas and charcoal grills, as well as open fire Comes with wire legs for use on an open fire Sprinkle smoking chips to the bottom of the smoker Comes with a fat plate Grating size 14 x 38 cm Made of stainless steel Weight 2.1 kg Dimensions 16…