Spiral Direct - rock fashion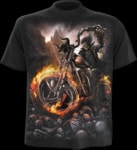 Spiral Direct - rock fashion
Spiral Direct - Gothic metal and T-shirts. Direct import from the UK.

Men's and women's clothing. Gothic and metal t-shirts, shirts, jackets, pants, shorts and accessories.
Don't be tempted to turn the handle, for once released this Jack will wreak havoc on your soul!

T-Shirt Black is made of Top Quality 100% Cotton, Jersey using skin friendly, Azo-free, Reactive dyes.