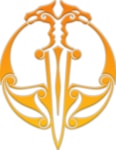 Jurassic Park
Jurassic Park - merchandise with official license.
High quality notebook with individually stamped pages.
A5 size
officially licensed
JURASSIC WORLD Fallen Kingdom 5 Badges Set.
diameter - large 3.7 cm, small 2.5 cm
officially licensed
High quality JURASSIC PARK doormat with 3D dinosaurus print.

Material PVC and coconut fibre
Size 40 x 60 cm
Officially licensed
Jurassic Park metal bottle opener with two magnets on the reverse.
material zinc alloy
size approx. 10 x 4 cm
officially licensed
Jurassic World 2 Mug with T-Rex, high quality ceramic mug. volume 0,32 l officially licensed packaging: Giftbox
Jurassic World 2 Mug with Velociraptor, high quality ceramic mug. volume 0,32 l officially licensed packaging: giftbox