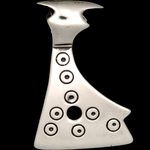 Slavic amulets
Old Slavic symbols that date back to Pagan times have been made into amulets for you. Artistic motifs of the old Slavs often had geometrical forms symbolizing the sun (or a spinning wheel - kolovrat), and flowers (svarga). Other popular motifs are the lunula (female health and fertility), and amulets for warriors (Perun's axe).
Slavic Wolf, Czech-Serbian cooperation. The author of the design is Saša Ristic.
Ко се с' вуком качи, добије цео чопор!
Who mess with the Wolf, gets the whole Pack!
Material: bronze
Size: 3.4 cm
Tin pendant of mighty Slavic God - Perun.  Perun is a God of thunder and lightning and is the highest God of the Slavic pantheon.  This pendant is inspired by a real find of Perun and from illustrations of Bohemian artist Mikolas Ales. Perun has a hood - symbol of spirituality, moustache -…
Triglav is the God from Slavic mythology, revered in Wolin and Szczecin by the Pomeranian tribe. Triglav has three heads because he governs three realms: Heaven, Earth, and the Underworld. The biographer Herbord states that the main Szczecin shrines were built using special art and mastery, with…
Medieval King's helmet PENDANT inspired by an artwork of the Gulhausen kodex. This is the helm of Premysl Ottokar II (1233 – 1278) a Czech king, called The Iron and Golden King.  He was the Duke of Austria, Styria, Carniola and Carinthia.  Material: zinc alloy Size 2.9 (height) x 4 cm Bale on the…
Linden tree leaves crafted as a large silver pendant, the bail is hidden. The linden tree has become an official panslavic symbol at the Panslavic gathering in Prague (2.-12. 6. 1848). Material sterling silver Size 3.6 x 5 cm  Weight 10 g
A DOMOVOI (or Domowik) is a house spirit in Slavic folklore. In Slavic mythology every house is said to have its own house dwarf. The DOMOVOI is a guardian of the house and he sometimes helps with household chores or work in the garden.  He also symbolizes  prosperity. He likes to live under the…
A beautiful piece inspired by Slavic early Medieval finds of the Great Moravian Empire. Vesna is according to Slavic Mythology the Goddess of youth, life, beauty, love and the spring. Material sterling silver Size 3 x 3.7 cm, bale6 mm in diameter Weight 9 g On request we can place a gem of…
CZECH LION Large Bronze Pendant, the symbol of the double-tailed lion is the old heradlic symbol of Bohemia. The facial expression of this lion is not of a mute national symbol, it overflows with pride, fighting spirit and a proper portion of anger. Today the state may not be in an optimum…
CZECH LION - large silver pendant which symbolizes the Czech statehood. Symbol of the double-tailed lion is the old heradlic symbol of Bohemia.  The facial expression of this lion is not a mute national symbol, it overflows with pride, fighting spirit and the proper portion of anger.  Today the…
Replica of an old Slavic jewel - Lunitsa (also Lunula or Luneta). The original was found near the city of Stare Mesto, Uherske Hradiste, the Czech Republic, the 9th century, Great Moravian Empire (first state of western Slavs). Symbol of Lunitsa (or Lunula - little moon) is a female symbol. Such…
Unique silver piece that depicts the symbol of Kolovrat, and shows old jeweller's methods of granulation and filigree that were very popular during the early Slavic Empires (such as Moravia Magna Empire). The Kolovrat (Kolovrat, Collowrath) symbol is in modern ages considered a panslavic pagan…
A replica of an old Slavic jewel - Lunitsa (also Lunula or Luneta). Casted granulation and filigree. The original was found near the town of Staré Město (Old Town), the Great Moravian Empire (first state of Western Slavs), today the Czech Rep, 9th century. The symbol of Lunitsa (or Lunula - little…
SLAVIC SVARGA (the Sun), a symbol of the god Svarog - the God of the Heavenly Light and Fire. Material: sterling silver  Weight: approx. 4.5 g Diameter: approx. 3 cm plus 4 x 7 mm eyelet
VELES, Slavic Pendant. Veles (also known as Volos) is a major Slavic God of Earth, Water and the Underworld. He is mostly associated with cattle, musicians, wealth, magic and trickery. Veles is believed to be related to the Indo-European deity of Mitra, as well as the Norse deity Loki. …
Lime (Linden) Leaves as a bronze pendant. The tree has become an official panslavic symbol at the Panslavic gathering in Prague in 1848.   Material: bronze Size: 3.6 x 5 cm Bail on the reverse
VELES, Slavic Pendant. Veles is a major Slavic God of earth, waters, forests and the underworld. He is associated with cattle, he is oftern depicted with horns or as a being with a bull's head. Veles is aslo a symbol of the harvest, wealth, music, magic and trickery. This slavic God is believed to…
Medieval King's helmet Bronze PENDANT inspired by an artwork of the Gulhausen kodex. This is the helm of Premysl Ottokar II (1233 – 1278) a Czech king, called The Iron and Golden King.  He was the Duke of Austria, Styria, Carniola and Carinthia.  Material bronze Size 2.9 (height) x 4 cm Bale on…
ALATYR Silver Pendant. Star of Rod, the Slavic God of Creation. The eight pointed star symbolises an expanding universe and vital energy. The purpose of the symbol is to safeguard  safe travel, earthly and astral, and protection. Material: sterling silver Diameter: 27 mm Size of the eye: 8 mm …
Alatyr Bronze Pendant. It is also known as Star, or Eye, of God Rod, Slavic God Creator. This symbol is often part of Slavic embroidery, mainly in the Baltic countries. Eight pointed star is a symbol of the expanding universe, vital energy and magic. Us mortals can use this symbol as a guide on…
Replica of an old Slavic jewel - Lunitsa (also Lunula or Luneta). The original was found near the city of Stare Mesto (Old Town), the Czech Republic, the 9th century, the Great Moravian Empire (first state of western Slavs). Symbol of Lunitsa (or Lunula - little moon) is a female symbol. Such…