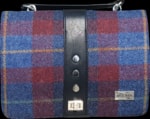 Woolen Handbags & Bags
Woolen Handbags & Bags from Ireland and Scotland. A unique look, imported directly from the manufacturers.
Practical shoulder bag crafted in Ireland.
canvas, leather
manufacturer Aran Woolen Mills
Stylish over-the-shoulder handbag combining traditional materials.
wool, leather
high quality craftsmanship
made in Ireland
Irish Tweed Leather Bag by Aran Woollen Mills, Traditional Tweed & Leather Bag with Handle. One main compartment with flap, fastening with 2 clip-on buttons Inside: 1 pocket, 1 central stand-alone pocket, 1 phone pocket, 1 pen pocket Leather fittings and binding Handle on top and adjustable…
Original handmade bag from Ireland. A shoulder bag with country tweed and rich leather detailing. The woven tweed material used for this bag creates a modern twist to a traditional bag. Tweed & black leather - Zip pockets - Secure zip fastening 100% Wool Made in Ireland
High Quality shoulder bag from Ireland. wool and leather size 7x9 in (approx. 18x23 cm) zip closure on top 1 outer zip pocket 2 inside pockets manufactured by Aran Woolen Mills, Ireland
Wool and Leather Shoulder Bag in grey with the Celtic Triskele.
wool and leather
manufactured by Aran Woolen Mills, Ireland
Original handmade bag from Ireland. A shoulder bag with country tweed and rich leather detailing. The woven tweed material used for this bag creates a modern twist to a traditional bag. Tweed, black leather Zip pockets - Secure zip fastening Size 21 x 25.5 x 7 cm 100% Wool Made…
Original handmade bag from Ireland. A shoulder bag with country tweed and rich leather detailing. The woven tweed material used for this bag creates a modern twist to a traditional bag. Tweed, black leather Zip pockets - Secure zip fastening Size 25 cm x 33 cm (50 cm with…
Original handmade bag from Ireland. A shoulder bag with country tweed and rich leather detailing. The woven tweed material used for this bag creates a modern twist to a traditional bag. Tweed, black leather Zip pockets - Secure zip fastening Size 21 x 25.5 x 7 cm 100% Wool …
Original handmade bag from Ireland. A shoulder bag with country tweed and rich leather detailing. The woven tweed material used for this bag creates a modern twist to a traditional bag. Tweed & black leather - Zip pockets - Secure zip fastening. 100% Wool Made in Ireland
Original handmade bag from Ireland. A shoulder bag with country tweed and rich leather detailing. The woven tweed material used for this bag creates a modern twist to a traditional bag. Tweed & black leather - Zip pockets - Secure zip fastening 100% Wool Made in Ireland
Original handmade bag from Ireland. A shoulder bag with country tweed and rich leather detailing. The woven tweed material used for this bag creates a modern twist to a traditional bag. Tweed & black leather - Zip pockets - Secure zip fastening. 100% Wool Made in Ireland
Original handmade bag from Ireland. A shoulder bag with country tweed and rich leather detailing. The woven tweed material used for this bag creates a modern twist to a traditional bag. Tweed & black leather - Zip pockets - Secure zip fastening. 100% Wool Made in Ireland
Original handmade bag from Ireland. A shoulder bag with country tweed and rich leather detailing. The woven tweed material used for this bag creates a modern twist to a traditional bag. Tweed & black leather - Zip pockets - Secure zip fastening. 100% Wool Made in Ireland
Original handmade bag from Ireland. A shoulder bag with country tweed and rich leather detailing. The woven tweed material used for this bag creates a modern twist to a traditional bag. Material: tweed & black leather Zip pockets - Secure zip fastening 100% Wool Made in…