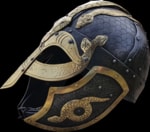 Other helmets
Replica helmets for reenactors: Japanese and Samurai helmet (Kabuto, Myochin, Saotome), European Helmets (Lobstertail Helmet, Pappenheim Helmet, Renaissance Helmets, Fantasy Helmets, Polish Winged Hussars Szyszak Helmet). All helmets are custom made, please send us the measurement of your head circumference. Material: iron plate (1 - 1.5 mm).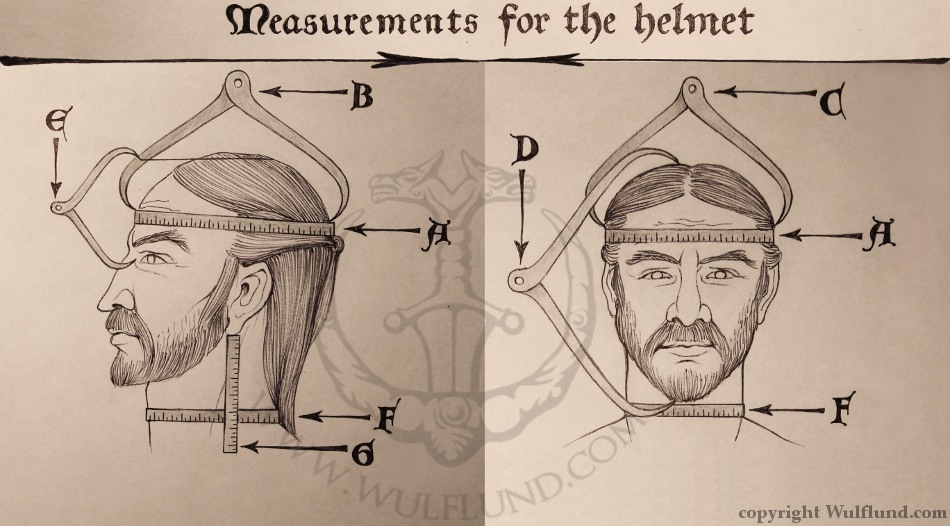 [magnify]
* Required measurements are:
A - head circumference
B - distance from the forehead to back of the head
C - distance between temples

Dependant on the type of the helmet we can ask you for the other measurements from the picture.
Fantasy helmet in a viking style with brass. A unique design and a high quality product of Czech armourers.
Burgonet - Assault helmet in a luxury collector's version. Etched.
Replica of the Lough Henney helmet, now deposited in the Ulster museum. The original of the helmet was found on a battlefield at Lough Henney and was worn by an Irish gallowglass. Material 1.5 mm blackened steel, brass
Winged Polish Hussar helmet.
Material thickness approx. 1.2 mm
Fantasy helmet with patina and cow horns.
Example of a custom made helmet. We can make almost any helmet you can imagine. Please contact us with your design.
During the late Middle Ages as armour protection for knights became more effective, their mounts became targets. This is a decorative piece and an example of a chanfron, which protectes the horse's face from the ears to the muzzle.
Morion is an open type helmet widely used in the 16th and 17th centruries. It is believed to be of Spanish origin and is most asociated with the American conquest by the Spanish conquistadores. 1,5 mm iron plate
Slavic - Viking Helmet (Russia).
Lobster-Tailed Helmet from the 17th Century.
Exclusive custom made helmet.
Material: 1.5 mm thick iron plate, brass
Custom made, can be personalized
Please see the details and follow  theinstructions at the beginning of this page.
Please see the details and follow the instructions at the beginning of this page.
Suitable for reenactors with head circumference 55 - 61 cm. Price also includes textile padding.
Please see the details and follow the instructions at the beginning of this page.