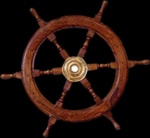 Antler furniture, lamps
Antler decor: Antler furniture, chairs and tables from deer antler, hunting chandelier, alnter wall lamps.
Marine decor and other home and interior items.
Steampunk Raven with Swords.
material resin 
size 27 cm
weight 630 g
Chandelier - deer antler.
Material: deer antler, glass, metal, wood
Size: 35 x 45 cm
Chandelier - antler.
Material: deer antler, glass, metal
Size: 60 x 50 cm
To display a diving helmet in proper style, we are offering a massive wooden base made from polished hardwood. On its own it weighs 4kg (9 lbs.) and 14kg (31 lbs) including the helmet. Overall dimensions of stand: 44 cms x 44 cms x 18 cms. (17 inch x 17 inch x 7 inch). Description of helmet, which…
Brass 40-inch (102 cm) Double Barrel Harbor Refractive Telescope. Reproduction. Wooden tripod is included. Weight circa 13 kg.
Massive 48 cm long brass double barrel telescope with wooden tripod in old style. Telescope has 35 mm in diameter The telescope can be easily removed. The telescope has a 360 degree horizontal range of motion around the tripod and 180 degrees vertical. Weight: 2.4 kg.
This ship sextant, made of solid brass. The telescope has glass optics and produces a sharp image. Adjustable color filters are present together with a micrometer drum and an adjustable mirror. This sextant can still be used, of course it is nice decoration. The sextant is delivered with…
Old Harbour Telescope, replica Overall size: 36,5 cm long.
Antler Furniture - chair. Oak wood. Made in the Czech Republic. Size circa: 50 x 50 x 100 cm.
Conference Antler Table. Size: 95 cm x 57 cm x 65 cm.
Hunting Furniture - ANTLER MIRROR, fallow deer. Size: 90 x 60cm.
FALLOW-DEER CHANDELIER. Size circa 50-60 cm x 48 cm (height).
Table antler lamp, 25 cn in a diameter x 60-65 cm.
Carved antler lamp with glass lampshade (cut glass). Size: 36 x 45 cm.