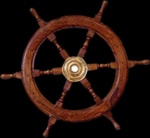 Antler furniture, lamps
Antler decor: Antler furniture, chairs and tables from deer antler, hunting chandelier, alnter wall lamps.
Marine decor and other home and interior items.
Occult Door Knocker featuring a red background with a pentagram, covered by the head of a triple-horned Sabbatic Goat, on its head, a raised pentagram and the words Solve and Coagula adorn the circular base. Cast in the finest resin before being painstakingly hand-painted, this piece would make the…
Chandelier - deer antler.
Material: deer antler, glass, metal, wood
Size: 35 x 45 cm
Chandelier - antler.
Material: deer antler, glass, metal
Size: 60 x 50 cm
Antler Furniture - chair. Oak wood. Made in the Czech Republic. Size circa: 50 x 50 x 100 cm.
Conference Antler Table. Size: 95 cm x 57 cm x 65 cm.
Hunting Furniture - ANTLER MIRROR, fallow deer. Size: 90 x 60cm.
FALLOW-DEER CHANDELIER. Size circa 50-60 cm x 48 cm (height).
Table antler lamp, 25 cn in a diameter x 60-65 cm.
Carved antler lamp with glass lampshade (cut glass). Size: 36 x 45 cm.