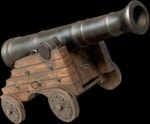 Firearms, cannons
Functional replicas of historical firearms: artillery and cannons, muskets, pistols. We also offer accessories for these weapons such as fuses and powder flasks. These replicas have been proof tested and have a certificate from the Czech Proof House for Arms and Ammunition.
The bandolier with a set of twelve wooden apostles and a leather pouch.
Wooden Apostel for Musketeer Bandolier. Price is set for one piece. Size: 13 cm.