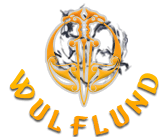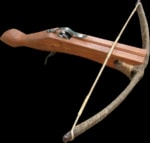 Bows, crossbows
Wooden bows for traditional historical archery. The material used for English longbows is usually ash wood. We offer also crossbows. For your pleasure, we also offer hand crafted arrows.
For hand-forged arrowheads (in the shape of a leaf, pyramid or sunken), our blacksmiths used hard spring carbon steel. The arrowheads are hammered, annealed, sharpened, quenched in rapeseed oil and annealed, then polished with stones. They have a minimum hardness of 60 HRC and approach the qualities of the quenchable steel used in the past.

Another specialty we offer is welded arrowheads. Hard steel used to be expensive, so weapons were made by welding blades made from hard steel onto softer, cheaper, iron. The part of the head that fastens onto the shaft is forged from soft iron and a piece of hard carbon steel is welded onto the leaf of the arrowhead. Then the point is annealed, sharpened, tempered and etched in vinegar (the last procedure is only significant for its cosmetic effects: Damascus steel is also etched in a similar way.

Hand crafted arrows: Arrows made from spruce, or sometimes other woods if requested. The shafts are shaped by hand, and they have chiselled grooves to hold the fletching from goose/turkey feathers, which are attached with pitch and wound around with pack thread. The length of the arrows is about 80 cm, with a diameter of about 8 mm, or we can arrange other dimensions for a custom order.