mythology collection, ancient cultures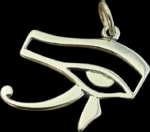 Mythology collection, ancient cultures
Silver jewellery inspired by the culture and mythology of the powerful ancient empires: ancient Egypt, ancient Greece, ancient Rome, and Persia. Pendants of the Gods, sacred animals and symbols.
An Icelandic Thor's hammer, the so-called wolf cross. The original was found in Fossi, Iceland. Our reproduction is more animalistic, the likes of Fenrir, the Viking wolf. Similar zoomorphic pendants were found in Norway as well. Material: sterling silver Size: 2.2 x 4.1 cm Weight: approx. 9 g
Roman Eagle - Aquila. A symbol of ancient Rome and a important part of standards of the Roman legions. Its loss was a shame for whole legion for many generations. Roman soldier holding Aquila was called Aquilifer. Bail on the reverse. Material sterling silver Size 2.8 x 3.1 cm Bail size 4 x 10…
TREE OF LIFE and trees in general carry a deep sacred meaning in many world religions and mythologies. Human beings, observing the growth and death of trees, and the annual death and revival of their blooms and foliage, have often seen them as powerful symbols of growth, death and rebirth. …
Horus Eye, ancient Egypt, silver pendant.
Size: 2.5 x 2.5 cm
Weight cca 3g
Material: sterling silver
Silver pendant of Roman Goddess Minerva.
Material sterling silver
Size 1.1 x 3.2 cm
Weight approx. 4.3 g
Silver pendant - Laurel of Victory.
Material sterling silver
Size 2.0 x 2.4 cm
Weight approx. 4.2 g
Material sterling silver
Size approx. 2.6 x 1.5 cm
Weight approx. 3.3 g
Silver Ankh (Anch) Pendant.
Material sterling silver
Weight approx. 3 g
Size 1.8 x 3 cm