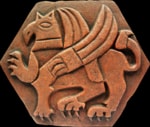 Europe
Archaeological reproductions that are faithful copies of findings in Europe from Ancient Greece and Rome through the Middle Ages. We have a special category for discoveries made in the Czech lands and the Great Moravian Empire. Most of them are made from resin with a cement binder. Each nation and each historical period on the European continent brought new subjects and motifs to sculptural art, as well as new techniques and a tendency to better handling of the materials. Works by masters whose names have today long been forgotten grace today's museums and private collections. Now you, too, can own a replica that will beautify your home, collection, or private altar or shrine.
Greek Hero Bronze Figure.
Cast in high-quality resin
Finished in bronze paint
Size 25.5cm
material artificial marble
diameter 145 mm
width 10 mm
Inspired by a bull's head shaped drinking vessel from Knossos, Crete, 15th century BCE, now exhibited at the Heraklion Archaeological Museum. material artificial stone hand painted size 120 x 165 x 25 mm
Hippocratic Oath as a wall decoration.
material artificial stone with patina
size 290 x 200 x 20 mm
Candle holder for a tea candle.
material artifical stone with patina
size 65 x 80 x 5 mm
The decoration is depicting the Trojan War hero Achilles, who was, according to Greek mythology, shot by an arrow in his heel, his only vulnerable spot. material artificial stone hand painted size 190 x 165 x 15 mm
Originally work of the Danish neoclassical sculptor Bertel Thorwaldsen.
material artificial marble
diameter 140 mm
width 10 mm
THOR, carved Wooden Sculpture.
Material: wood
Size: 23×9×6 cm
Svetovid - Slavic God of war, fertility and abundance. Old Slavic word "Svet" means MIGHTY or STRONG, not saint.  The end part "-Vit" means WINNER, MASTER or RULER. Svantovit then can be translated as "MIGHTY RULER". About sculptures: These figurines are the original work of Serbian sculptor Jovan…
Slavic Bird and Kolovrat, magnet.
Manufactured by Rod in Serbia
The masks of Satyr were used in performances in ancient Greece. Satyrs are half human, half goat protectors of forests and herds. Material: artificial marble Surface: patina Dimensions: 65 × 65 × 20 mm
Venus de Milo, Magnet.
Material: artificial marble
Patina finish
Size: 35 × 65 × 20 mm
Slavic Dragon from Knin, Magnet.
Material: artificial marble
Dimensions: 65 × 65 × 20 mm
DAJBOG - The Giving God. Dajbog is one of the sons of Svarog, the Sungod, the one who gives light, rain and fertility – everything that is good. The Slavs believed that Dajbog travels the heavens every day in a magical quadriga yoked with four white horses with fiery manes and golden wings,…
The cult of Veles is very strong and dominant. Apart from Perun, he was the only Slav deity worshiped by all Slavs. His cult survived for a long time with Slavs from the Balcans and the Carpathians. Veles is a God of earth, son of God Rod, the patron of cattlemen and farmers, in charge of crops,…
The WOLF is a totem animal of the old Slavs, their mythical ancestor. It played a significant role in the Slavic mythology and folklore. The wolf was venerated and feared. For the Slavic people wolves are tied up to protection rituals and ancestor worship, being a way to connect the…
Owl of Goddess Athena, magnet. Size: 6,2 x 3,7 cm.
Boar, Great Moravia, magnet. Size: 8,3 x 5,7 cm.
You can see on this coin initials on the city of Athens and the owl, which was sacred animal of the Goddess Athena, protector of Athens. The coin was minted during the Persian Wars. When the city needed much protection of Goddess Athena. Size: 5 x 85 x 85 mm. Material: artificial stone.
The Vitruvian Man or simply L'Uomo Vitruviano, is a drawing by Leonardo da Vinci. It is accompanied by notes based on the work of the architect Vitruvius. The drawing, which is in pen and ink on paper, depicts a man in two superimposed positions with his arms and legs apart and inscribed in a…