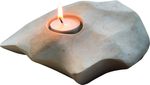 Products from stones
Products from minerals, stones, and fossils. Jewelry.
Feather agate - cut, polished geodes. These agates have cavities formed predominantly of crystal crystals, more rarely amethyst with a thin agate edge. The stones are very decorative. Country of origin: Brazil Size approx. 4 x 9 cm
Himalayas Salt packed in textile bag. Salt is intended for bath, it brings relaxation. Weight: 1 kg.
Himalayan Salt Lamp USB. Generally, it is noted, that heating of the salt crystals from the salt lamps emits anions, which should absorb electromagnetic smog from electronic devices. The lamp gives off beautiful orange light and creates a relaxing atmosphere. The salt lamp is finished off with a…
Large crystal - tumbled stone. Size approx. 4 cm. Price is for a one piece.
Massive agate candle holder for tea candles. Height: 10 cm.
FLINTSTONES for fire making. These stones are usually of Baltic Sea origin. Size approx. 3-5 cm.