forged jewelry, torcs, bracelets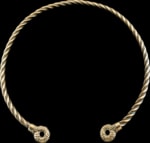 Forged jewelry, torcs, bracelets
Hand-wrought jewellry from the blacksmiths' forge - amulets, steel bracelets, earrings, arm bands, necklaces, and various hand-wrought jewellery made from Damascus steel. We are proud to offer torcs (torques, torqs) - the classic neck rings worn by Celtic kings and heroes - made from steel, bronze, brass or silver. 

* required measurements: in the last step of your order please let us know your neck circumference (A) and required circumference of the torc (B) - see the picture
Stunning Hand Forrged Snake Pendant. Snake symbolizes eternity, awareness, intellect and transformation.
Material steel
Height 10 cm
Anti-rust coated with wax
Hand forged bracelet with anti-rust coating.
Forged Celtic Triquetra.
Material: steel
Anti-rust coating
Height: 4.1 cm
Hand Forged Snake Bracelet treated with anticorrosive wax.
Skilfully Hand Braided and Hand Forged Large STEEL TORQUES. Torque (troq or torc), from Latin torques - to twist, is a common name for all rigid metal neck rings, that our ancestors had been wearing since the Bronze Age. Torcs were popular with the Romans and it is considered a typical Celtic…
Hand forged bracelet with anti-rust coating.
Forged Butterfly, large decorative pendant.
Material iron
Size 2.8 x 4.2 cm
Forged Beetle, a unique pendant.
BJORNAR, Axe, Pendant.
Material Damascus steel
Height: 4 cm
Original jewelry
Handmade
Gáe Bulg, damascus steel spear. The Gáe Bulg (also Gáe Bulga), meaning "spear of mortal pain" is the name of the spear of Cúchulainn in the Ulster Cycle of Irish mythology. It was given to him by his martial arts teacher, warrior woman Scáthach. It was made from the bone of a sea monster, the…
Hand forged miniature of Thor's Hammer.
size: 2.2 x 6.8 cm
ring for a cord (11mm inner diameter)
anti-corrosion coating
Celtic Torc with Bull's Heads. Inspired by an artefact from Trichtingen, Baden-Württemberg, Germany, 350-100 BCE. Completly manufactured by Wulflund in the land of Celtic Boii tribes (Bohemia). Torc (troq or torque ) from Latin torques, to twist, is a common name for all rigid metal neck…
SCORPIO Forged Steel Bracelet.
Material steel
Anti-rust coating
A handmade torques (torc) featuring heads of a Viking wolf Fenrir.
Material: brass
Size of head terminals: 1.1 x 3 cm
This exclusive Viking Brass and Garnet Torc (Torques or neck ring) with Two Raven Heads is handmade and is one of our most prestigious products. In Norse mythology Huginn (Thought) and Muninn (Memory) are ravens that fly all over the world and bring information to the god Odin. Migration…
Beautiful hand twisted brass viking bracelet featuring two raven's heads with garnets. One of our most exclusive products. In Norse mythology, Huginn (Thought) and Muninn (Memory) are ravens that soar all over the world (Midgard), and bring information to the God Odin. Huginn and Muninn are…
Collach Pictish Boar Brass Bracelet. The design is based on the rock carvings in Scotland (Dunadd). Wild boar is, besides birds of prey, the most frequently depicted animal in Celtic art. This logically indicates that it had a special significance in society. The available archaeological and…
Viking Dragon Jelling Bronze Bracelet. Norse mythology contains several references to dragons, the most popular is Níðhöggr, the dragon which gnaws the roots of Yggdrasil, the immense mythical ash tree that connects the nine worlds in Norse cosmology. The bracelet can be adjusted and is…
Skilfully Hand Braided STEEL TORQUES, designed and adjusted also for comfortable wearing. You can simply open and close it. Torque (troq or torc), from Latin torques - to twist, is a common name for all rigid metal neck rings, that our ancestors had been wearing since the Bronze Age. Torcs…
Handmade Silver Deer Torc that is made of plaited silver rods of different thickness. With Deer's heads terminals. Material sterling silver The weight depends on your neck circumference, on average 65 g