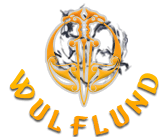 forged jewelry, torcs, bracelets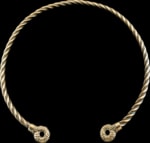 Forged jewelry, torcs, bracelets
Hand Twisted Brass Bracelet with Celtic Deer. The bracelet can be adjusted and it is very comfortable to wear. Material: brass The size of the terminal: 25 × 13 mm
Fianna Celtic Deer Torques, easily adjustable and light. Torque (troq or torc), from Latin torques - to twist, is a common name for all rigid metal neck rings, that our ancestors had been wearing since the Bronze Age. Torcs were popular with the Romans and it is considered a typical Celtic artefact…
Hand forged Thor's hammer for those of you who prefer original hand crafted pieces from casted jewelry. Born in the fire from coal and steel. Thor's Hammer, or Mjöllnir, is God Thor's magical weapon. The hammer is unbreakable, it always hits the target and then comes back to the owner's…
Hand Forged THOR'S Hammer for those who preffer original handmade jewellery to cast one. Thor's Hammer, or Mjöllnir, meaning grinder or crusher, is God Thor's magical weapon. The hammer is unbreakable, it always hits the target and then comes back to the owner's hand. The hammer flies through…
Hand forged Thor's hammer for those of you who prefer original hand crafted jewelry from casted products. Thor's Hammer, or Mjöllnir, is God Thor's magical weapon. The hammer is unbreakable, it always hits the target and then comes back to the owner's hand. The hammer flies through the…
Hand Forged Thor's Hammer for those of you who preffer original from casted jewelry. Thor's Hammer, or Mjöllnir, is God Thor's magical weapon. The hammer is unbreakable, it always hits the target and then comes back to the owner's hand. The hammer flies through the sky in the form of a…
Forged STEEL Flower Pendant.
Size: 5 cm in diameter
Anticorrosion coating
Forged templar cross pendant.
made of steel, anti-rust coating
size 5 cm in diameter
Brass Torques with Viking Snake JÖRMUNGANDR. Migration Period golden bracteates, Vendel era helmet plates and Germanic Iron Age bird-shaped brooches all feature this Water Dragon, artefacts were found in Uppsala, Valsgärde and Sutton Hoo. According to Norse mythology Jörmungandr, or…
Cat Sterling Silver Bracelet in a Celtic style. Designed by south Bohemian artist - Kati. Material sterling silver Weight of the bracelet in the photo approx. 36.7 g Size depending the wrist circumference
In a forge processed Celtic Knotted Pendant. Height: 3.1 x 3.1 cm. Anti-rust coating. Material: steel.
Celtic cat torque was designed for comfortable wearing. You can adjust the size easily. Torque (troq or torc) from Latin torques "to twist" is a common name for all rigid metal neck rings, that our ancestors had been wearing since the Bronze Age. Torcs were popular with the Romans and it is…
Celtic boar is a symbol of power and men's fertility. Design is taken from Pictish carvings which were found near Dunadd, Scotland. Torc was designed for comfortable wearing. You can adjust the size easily. Torque (troq or torc) from Latin torques "to twist" is a common name for all rigid…
Celtic Cat Torques, was designed for comfortable wearing,  easy to adjust. Torque (troq or torc) from Latin torques "to twist" is a common name for all rigid metal neck rings, that our ancestors had been wearing since the Bronze Age. Torcs were popular with the Romans and it is considered a…
DREKI Brass TORQUES inspired by Viking art, easily adjustable and comfortable to wear. Torque (troq or torc), from Latin torques - to twist, is a common name for all rigid metal neck rings, that our ancestors had been wearing since the Bronze Age. Torcs were popular with the Romans and it is…
The Celtic boar is a symbol of male power. The design is taken from Pictish carvings which were found near Dunadd, Scotland. The brass torques was designed for comfortable wearing. You can adjust the size easily. Torque (troq or torc) from Latin torques "to twist" is a common name for all rigid…
Draig - meaning "dragon" in Welsh. Torque (troq or torc) from Latin torques "to twist" is a common name for all rigid metal neck rings, that our ancestors had been wearing since the Bronze Age. Torcs were popular with the Romans and it is considered a typical Celtic artefact. It was a symbol of…
Forged Celtic triquetra. Triquetra (from the latin tri - three, and quetrus - horn) is a mythological symbol of many meanings. In the religion of Wicca, this symbol represented life, death and rebirth - the never ending cycle. This symbol is also considered to depict the three forces of nature …
Forged Celtic Knotted Pendant. Similar to the triquetra, the Celtic Star represents three different elements (fire, water, air). Stylized inner square infensifies the symbolism. Material: steel, anti-rust coating Height: 3.5 x 3.5 cm