Sharp Blades - throwing knives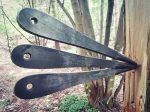 Sharp Blades - throwing knives
Are you looking for something really special for instinctive throwing? Vengeance Throwing Knives might hit the spot! Tested by 5-times World Champion Adam Celadin. They are perfect for any technique and specially for instinctive throwing! Length:25 cm (9.84 in) Thickness:8 mm (0.315 in) Weight:280…
Hand Forged Medieval Bearded Axe featuring:  material high carbon spring steel blade, wooden shaft, leather BLUNT/SHARP blade with round edge case hardened for re-enactment practice size of head 16 x 19 cm shaft approx. 55 cm long excellent product of Arma Epona smithy (Czech Republic) you can buy…
The Arrow design was developed by one of the best knife throwers in the world known as Tom Tom from Germany, who is a master of the no-spin. The blade is the result of years of study and practice as he perfected his technique. At 25cm long and weighing 250 g, Arrow knives offer BIG penetration and…
The low contour of the handle gives the blade a deadly profile that offers hard hitting accuracy and deep penetration on your no-spin throws. In a word, the Osetr is a BEAST, and a must-have for any fan of the No-Spin throw. The Russian design that made No-Spin famous. Made from Spring Steel, Osetr…
Hand forged Celtic knife. Inspiration: Celtic finds of European Iron Age settlements - oppida Overall length: 30 cm, blade: 16 cm, blade thickness: 4 mm. Hand forged in Bohemia (land of Boii tribes) by Arma Epona smithy.
This knife is part of a range developed primarily for bushcraft and survival featuring a sturdy structure, the hammer at the top of the handle can crush stones and hammer nails. The steel is partialy hardened allowing the blade to bend rather than break when exposed to extreme pressure, it is…
The history of Valaška Axe is almost as long as the history of the Czech "national" spirit Slivovice (plum brandy). The long handle could traditionally be used by shepherds for support like a walking stick when walking over the hills tending to sheep in Walachia region, Czech Rep. A must have tool…
The design of this throwing axe is based on the design of medieval axes. Made from CSN 12050 carbon steel. All three end points are shaped into sharp tips so that you can nearly always hit the target. Linen string covered handle treated with a special resin. Body length: 33 cm (13 in) Head width:…
Onda knives are specially designed for no-spin and instinctive throwing. Made from spring steel, Onda Throwing Knives are exceptionally strong and balanced for perfect consistency on your no-spin throws. Master the no-spin technique at various distances with these highly accurate, very powerful…
Made from 54SiCr6 spring steel (CSN 14260) ensuring superior balance and durability.
Length: 27 cm (10.6 in)
Thickness: 4 mm (0.157 in)
Weight: 185 g (6.53 oz)
Material: 14260 Spring Steel
Pieces in set: 3
Looking for a well balanced set of knives, good for a variety of throwing styles? With a rounded butt, straight spine and curved handle, White Shark Throwing Knives allow for a number of different grips. Find your style, or develop a new throw. Made from Spring Steel, White Shark Throwing Knives…
The only thing the great white shark fears is the orca whale. Introducing the Orca Throwing Set. Longer. Heavier. Takes a bigger bite. 30 cm long Orca throwing knives weigh 300 g for maximum heft and penetration, while still feeling light and balanced in the hand, 54SiCr6 spring steel ensures…