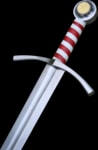 Medieval swords
Czech-made medieval swords made for historical fencing as well as for collectors. Time period: Gothic (12th-16th centuries). Replicas of European cold weapons, primarily from the Romanesque and Gothic periods: one-handed swords, hand-and-a-half swords, two-handed swords, cutlasses, archery swords.
These weapons are manufactured from high carbon steel (54SiCr6), usually tempered to a hardness of 52 – 54 HRC. Two years guarantee for blades.
Total lenght: 120 cm, length of blade: 91 cm. This sword is blunt and constructed for historical fencing.
Single-handed Medieval Sword handmade by Arma Epona Smithy, swordsmaker of high quality weapons. Material: 54SiCr6 high carbon steel Hardness: 52-54 HRC Blade: blunt / sharp Overall length: 93 cm Blade: 75 cm Width of the blade: 4.4 cm Grip: 11 cm (leather part) Length of pommel: 5.5 cm, thickness…
Single-handed Medieval Sword handmade by Arma Epona Smithy, swordsmaker of high quality weapons. Material: 54SiCr6 high carbon steel Hardness: 52-54 HRC Blade: blunt / sharp Overall length: 93 cm Blade: 75 cm Width of the blade: 4.4 cm Grip: 11 cm (leather part) Length of pommel: 5.5 cm, thickness…
Single-handed Medieval Sword handmade by Arma Epona Smithy, swordsmaker of high quality weapons. Material: 54SiCr6 high carbon steel Hardness: 52-54 HRC Blade: blunt / sharp Overall length: 93 cm Blade: 75 cm Width of the blade: 4.4 cm Grip: 11 cm (leather part) Length of pommel: 5.5 cm, thickness…
Single-handed Medieval Sword handmade by Arma Epona Smithy, swordsmaker of high quality weapons. Material: 54SiCr6 high carbon steel Hardness: 52-54 HRC Blade: blunt / sharp Overall length: 93 cm Blade: 75 cm Width of the blade: 4.4 cm Grip: 11 cm (leather part)
Single-handed Medieval Sword handmade by Arma Epona Smithy, swordsmaker of high quality weapons. Material: 54SiCr6 high carbon steel Hardness: 52-54 HRC Blade: blunt / sharp Overall length: 93 cm Blade: 75 cm Width of the blade: 4.4 cm Grip: 11 cm (leather part) Length of pommel: 5.5 cm, thickness…
Hand and a Half Sword with Red Jasper Pommel manufactured by Arma Epona smithy, Prague, Czech Republic. Material: high carbon steel 54SiCr6, red jasper Hand-stitched leather grip Hardness: 50 - 52 HRC Overall size: 124 cm Blade length: 96 cm Blade width at the guard: 4 cm
ROSENBERG - Hand and a Half Sword. Hand-stitched leather grip. Manufactured by Arma Epona smithy, Prague, Czech Republic. Material: high carbon steel 54SiCr6 Hardness: 50 - 52 HRC Overall size: 124 cm Blade length: 96 cm Blade width at the guard: 4 cm
Hand and a Half Sword with Prague Groschen Pommel and Hand-sewn Leather Grip. Manufactured by Arma Epona smithy, Prague, Czech Republic. Material: high carbon steel 54SiCr6 Hardness: 50 - 52 HRC Overall size: 124 cm Blade length: 96 cm Blade width at the guard: 4 cm
Medieval Hand-And-A-Half Sword with Hand-stitched Leather Grip. Manufactured by Arma Epona smithy, Prague, Czech Republic. Material high carbon spring steel 54SiCr6 Hardness 52-54 HRC Total length 123.5 cm Length of blade 95.8 cm Width of blade at the guard 3.9 cm Width of the guard 26.3…
BRETON Single-handed Handmade Medieval Sword, product of Arma Epona - a swords maker of the highest quality swords. Material: 54SiCr6 high carbon steel, leather Blade: blunt / sharp Overall length: 93 cm Blade length: 75 cm Blade width: 4.5 cm Guard length: 23.5 cm Grip: 10.5 cm (leather…
REGAL SINGLE HANDED SWORD. Sword is blunt and designed for historical fencing. High quality leather grip, low weight. Material 54SiCr6 steel Overall length approx. 95 cm Blade length approx. 75 cm Leather part of hilt 11.5 cm Guard length approx. 21.5 cm Weight 1.2 kg Point of balance 8…
ROUL Single-handed Handmade Medieval SWORD with Bronze Pommel and Hand Sewn Decorated Leather Hilt, product of Arma Epona, Prague, the Czech Republic,  manufacturer of the highest quality swords. Material: 54SiCr6 high carbon steel, leather Blade: blunt / sharp Overall length: 92 cm Blade…
JURIAN Hand and a Half Sword. Material: high carbon steel 54SiCr6 Hardness: 50 - 52 HRC Overall size: 127.5 cm Blade length: 95.5 cm Blade width at the guard: 3.7 cm Guard width: 27.5 cm Leather part of hilt: 22 cm Pommel length: 8.5 cm Point of balance approx 2.5 cm below the guard …
Hand and a Half Sword with Blunt Blade for Re-enactment. Material: high carbon steel 54SiCr6 Hardness: 50 - 52 HRC Overall size: 124 cm Blade length: 95.5 cm Blade width at the guard: 4 cm Guard width 28 cm Leather part of hilt: 19 cm Pommel length: 8 cm Point of balance approx. 5 cm below…
Single-handed medieval sword with jasper. Manufactured by Arma Epona smithy. Material: high carbon spring steel 54SiCr6 Hardness: 52-54 HRC Overall length: 101 cm Blade: 81cm (max. width of the blade: 4.5 cm) Width of guard: 19 cm Grip: 10.7 cm (leather part) Length of pommel: 8.3 cm Point…
BROM, single-handed medieval sword. This handmade sword is a product of Arma Epona smithy - sword of the highest quality. Material: 54SiCr6 (high carbon steel) Blade: blunt / sharp Overall length: 94 cm Blade: 77.5 cm Width of the blade: 4.8 cm Guard: 18.9 cm Width of the blade 10 cm above…
Single-handed Medieval Sword with a bronze Rose. Manufactured by Arma Epona smithy, Czech Rep. Material: high carbon spring steel 54SiCr6 Hardness: 52-54 HRC Overall length: 101 cm Blade: 81cm (max. width of the blade: 4.5 cm) Width of guard: 19 cm Grip: 10.7 cm (leather part) Length of…
HIBERNIAN Single-handed Medieval SWORD with Malachite. Manufactured by Arma Epona smithy, Prague, the Czech Republic. Material: high carbon spring steel 54SiCr6, malachite, leather Hardness: 52-54 HRC Overall length: 101 cm Blade: 81cm (max. width of the blade: 4.5 cm) Width of guard: 19 cm …
Single-handed Medieval Sword with Templar Cross (Ecu coin) Manufactured by Arma Epona smithy, Praque, Czech Rep. Material: high carbon spring steel 54SiCr6 Hardness: 52-54 HRC Overall length: 101 cm Blade: 81cm (max. width of the blade: 4.5 cm) Width of guard: 19 cm Grip: 10.7 cm (leather…