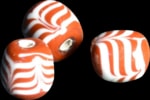 Yule decorations, Glass Beads
Czech glass beads - rocailles are the most used type of glass seed beads. They originated in Venice, Italy (15th century). These glass beads have been produced industrially in Bohemia since the 18th century. Wholesale. Original Czech Beads.
Handmade production of Yule tree decorations from blown glass beads was inscribed in 2020 on the Representative List of the Intangible Cultural Heritage of Humanity.