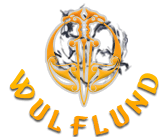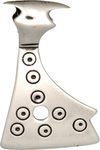 Old Slavs
Slavic Shop - The Slavic peoples are a linguistic and ethnic branch of Indo-European peoples whose original homeland was an area between the rivers of the Dniester and the Visla. In the Dark Ages they were a quiet mysterious ethnic group, they appeared in ancient literature very sporadically, and not much attention was paid to them until the 6th century when they invaded Europe. They brought here their culture, crafts, a very nice fairy-taleish mythology and their Gods. Our pagan Gods were never forgotten, and after hundreds of years of Christian dominance their importance is stronger than ever. Slava Perunu!
Since the early 6th century the Slavs have inhabited a very large area - from the Baltic Sea in the west to the Bering sea in the east. We feel very proud to introduce our heritage to you – the heritage of people who gave the World many famous composers (Tchaikovsky, Dvorak, Smetana ...), painters (Mucha, Warhol ...), scientists, architects and heroes (RAF pilots, Serbian partisans, Hussites...). Let's not forget Vodka, Pilsen and Budweiss beer, as well as beautiful women.
You can buy perfect Slavic jewellery replicas, smithy works or other goods with Slavic symbology.
If you have an idea for new products or if you want to offer your products to us please do contact us.

Message for our SERBIAN brothers: We are sorry about our politicians, the absolute majority of Czechs think and say this:





Slavic Anthem

Hej Sloveni, jošte živi
Duh naših dedova
Dok za narod srce bije
Njihovih sinova
Živi, živi duh slovenski
Živeće vekov'ma
Zalud preti ponor pakla
Zalud vatra groma

Nek se sada i nad nama
Burom sve raznese
Stena puca, dub se lama
Zemlja nek se trese

Mi stojimo postojano
Kano klisurine
Proklet bio izdajica
Svoje domovine!
$59.71
Catalogue number: LIT01
In stock
$34.12
Catalogue number: FIG725
In stock
$26.66
$23.46
Catalogue number: TOR276
In stock