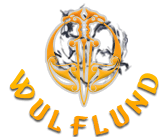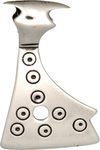 Old Slavs
Slavic Shop - The Slavic peoples are a linguistic and ethnic branch of Indo-European peoples whose original homeland was an area between the rivers of the Dniester and the Visla. In the Dark Ages they were a quiet mysterious ethnic group, they appeared in ancient literature very sporadically, and not much attention was paid to them until the 6th century when they invaded Europe. They brought here their culture, crafts, a very nice fairy-taleish mythology and their Gods. Our pagan Gods were never forgotten, and after hundreds of years of Christian dominance their importance is stronger than ever. Slava Perunu!
Since the early 6th century the Slavs have inhabited a very large area - from the Baltic Sea in the west to the Bering sea in the east. We feel very proud to introduce our heritage to you – the heritage of people who gave the World many famous composers (Tchaikovsky, Dvorak, Smetana ...), painters (Mucha, Warhol ...), scientists, architects and heroes (RAF pilots, Serbian partisans, Hussites...). Let's not forget Vodka, Pilsen and Budweiss beer, as well as beautiful women.
You can buy perfect Slavic jewellery replicas, smithy works or other goods with Slavic symbology.
If you have an idea for new products or if you want to offer your products to us please do contact us.

Message for our SERBIAN brothers: We are sorry about our politicians, the absolute majority of Czechs think and say this:





Slavic Anthem

Hej Sloveni, jošte živi
Duh naših dedova
Dok za narod srce bije
Njihovih sinova
Živi, živi duh slovenski
Živeće vekov'ma
Zalud preti ponor pakla
Zalud vatra groma

Nek se sada i nad nama
Burom sve raznese
Stena puca, dub se lama
Zemlja nek se trese

Mi stojimo postojano
Kano klisurine
Proklet bio izdajica
Svoje domovine!
Slavic Wolf, Czech-Serbian cooperation. The author of the design is Saša Ristic.
Ко се с' вуком качи, добије цео чопор!
Who mess with the Wolf, gets the whole Pack!
Material: bronze
Size: 3.4 cm
Triglav is the God from Slavic mythology, revered in Wolin and Szczecin by the Pomeranian tribe. Triglav has three heads because he governs three realms: Heaven, Earth, and the Underworld. The biographer Herbord states that the main Szczecin shrines were built using special art and mastery, with…
A DOMOVOI (or Domowik) is a house spirit in Slavic folklore. In Slavic mythology every house is said to have its own house dwarf. The DOMOVOI is a guardian of the house and he sometimes helps with household chores or work in the garden.  He also symbolizes  prosperity. He likes to live under the…
CZECH LION - large silver pendant which symbolizes the Czech statehood. Symbol of the double-tailed lion is the old heradlic symbol of Bohemia.  The facial expression of this lion is not a mute national symbol, it overflows with pride, fighting spirit and the proper portion of anger.  Today the…
CZECH LION Large Bronze Pendant, the symbol of the double-tailed lion is the old heradlic symbol of Bohemia. The facial expression of this lion is not of a mute national symbol, it overflows with pride, fighting spirit and a proper portion of anger. Today the state may not be in an optimum…
Old Pagan Solar Cross from early medieval times - Great Moravian Empire. The model for this jewel was hand made - this replica is very close to the original find. Size: 2,5 cm. Weight: 3.7 g. Materal: silver 925. Size of the eyelet: 4 mm.
Unique silver piece that depicts the symbol of Kolovrat, and shows old jeweller's methods of granulation and filigree that were very popular during the early Slavic Empires (such as Moravia Magna Empire). The Kolovrat (Kolovrat, Collowrath) symbol is in modern ages considered a panslavic pagan…
A unique piece of silver jewellery indeed! It is probably the first one in the world that combines the symbol of Kolovrat with jewellery making methods of granulation and filigree that were very popular in early Slavic Empires, such as the Moravia Magna Empire. The Kolowrat (Kolovrat, Collowrath)…
A replica of an old Slavic jewel - Lunitsa (also Lunula or Luneta). Casted granulation and filigree. The original was found near the town of Staré Město (Old Town), the Great Moravian Empire (first state of Western Slavs), today the Czech Rep, 9th century. The symbol of Lunitsa (or Lunula - little…
SLAVIC SVARGA (the Sun), a symbol of the god Svarog - the God of the Heavenly Light and Fire. Material: sterling silver  Weight: approx. 4.5 g Diameter: approx. 3 cm plus 4 x 7 mm eyelet
Lime (Linden) Leaves as a bronze pendant. The tree has become an official panslavic symbol at the Panslavic gathering in Prague in 1848.   Material: bronze Size: 3.6 x 5 cm Bail on the reverse
Medieval King's helmet Bronze PENDANT inspired by an artwork of the Gulhausen kodex. This is the helm of Premysl Ottokar II (1233 – 1278) a Czech king, called The Iron and Golden King.  He was the Duke of Austria, Styria, Carniola and Carinthia.  Material bronze Size 2.9 (height) x 4 cm Bale on…
ALATYR Silver Pendant. Star of Rod, the Slavic God of Creation. The eight pointed star symbolises an expanding universe and vital energy. The purpose of the symbol is to safeguard  safe travel, earthly and astral, and protection. Material: sterling silver Diameter: 27 mm Size of the eye: 8 mm …
This silver Perun's Axe combines creative inspiration and the design of historical artefacts which makes the Slavic pendant of mighty God of Thunder less conventional and more unique. The little balls represents planets or individual Slavic nations, which Perun rules over. Material: 925 silver …
Slavic Symbol of Kolovrat Bronze Pendant. A unique piece of jewellery as it is probably the first one in the world that combines the symbol of Kolovrat with jewellery making methods of granulation and filigree which were very popular in early Slavic Empires, such as the Moravia Magna Empire. The…
Slavic Symbol of Kolovrat Bronze Pendant. A unique piece of jewellery as it is probably the first one in the world that combines the symbol of Kolovrat with jewellery making methods of granulation and filigree which were very popular in early Slavic Empires, such as the Moravia Magna Empire. The…
Gromoviti znaci Amulet with symbols most often assoiciated with God Perun. In particular the Eastern Slavs carved the symbol on the wooden beams under their rooves hoping it would provide protection against lightning. Today this amulet is considered one of the symbols of Slavic unity depicting…
A replica of a Slavic pendant - Axe of Perun. Archaeological finds of these amulets are common in many Slavic countries. The Axe of Perun is a pendant shaped like a battle axe. It may be found in certain parts of Scandinavia and modern day Russia. Perun is a pre-Christian God of Thunder and…
Handcrafted pendant of the Axe of Perun. This axe is not cast - each axe is an original talisman that was made by welding and then highly polished. Decorated on the both sides by engraving and carving.   Material sterling silver Size approx. 2.6 x 3.7 cm Weight approx. 9.5 g Bale 5 x 7 mm
Large Bronze PENDANT of Svetovit inspired by a wooden figure of four-headed Slavic God Svantovit discovered by chance in a tree hollow in Wollin, Poland. Svantovit is a Slavic God of war, fertility and abundance. He has four heads to protect you from all sides. Body of this pendant resembles…