Traditional Czech ceramics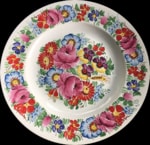 Traditional Czech ceramics
Traditional Czech porcelain: ceramics from the Sumava Mountains called "Chod ceramics." The
old Chod porcelain products feature traditional hand-painted patterns from the Chod region. We offer a wide range of products in two versions: either with black and white decorations, or other patterns upon request.
The Chodové (Chod people, which in translation means Walkers, Patrollers or Rangers) were probably originally of Sorbian origin. They have been living in the southern part Bohemia since the 13th century where they guarded the borders between Bohemia and Bavaria. The Chodové speak their own dialect of the Czech language and take pride in their heritage crafts.