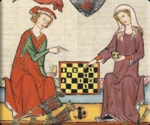 Medieval board games
Medieval historical board games - chess.
Handmade Bone Cut Gaming Dice.
Size: 1 x 1 cm
Price per one piece
dice are handmade so the size and the colour of piece may vary
Set of six forged dice (1.2 x 1.2 cm), the leather cup: height: 11.5 cm.
Six hand forged dice and horn cup. Horn cups for dice game were used since ancient Rome period. Size aof a dice: 1.5 x 1.5 cm.
Six hand made bone dice and cup from leather. Size of the cup approx.: 9.5 cm, size of the dice approx. 10 mm. Handcrafted in the Czech Republic. Very suitable also as a present. Suitable from the ancient times till present.