forged iron home accessories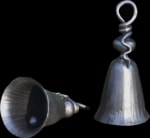 Forged iron home accessories
Forged iron accessories for home, restaurants and wine shops. Gifts and accessories for wine are very popular, we sell openers, corkscrews, forged iron wine racks and wine carriers. And for the fortunate ones who own a fireplace we have forged iron fireplace tools, fire grates and wood holders.
Hand forged beer bottle opener. Size approx. 7 x 15 cm.
A fire can't be turned up and down as easily as a modern oven. The practical, medieval solution to this was to use a trammel hook or kettle saw. This enables you to adjust the high of your pot or grill from the fire to get the perfect temperature for cooking. High quality Czech product
Sandtone Garden Bowl and Forged Holder. Hand crafted stonemasonry from natural sandstone from the Czech Republic. Can be customized to your requirements e.g. holes for growing plants. Material sandstone Size 34 x 32 x 11 cm Height: 10 cm Weight 10 kg
BEER OPENER (other drinks also possible), forged, flat.
Forged Ring Pull - for furniture or as a door knocker.
TROLL CROSS Wall DECORATION. So called Troll Cross is a strong protective symbol of the old Scandinavian folklore. It should protect you and your home against trolls and other creatures that lurk in the forest as well as against any malevolent forces. Material: iron Height: 61 cm Width: 40 cm …
FORGED HEART, interior decoration. A solid and loving alternative to a horseshoe for your home. Hopefully it will help you bring love or keep love in your liffe. Size 9 x 13.5 cm
Northern Red Oak LEAF Forged BOWL.
GOTHICA - Forged Chandelier for Gothic style interiors. Can be customized to your needs, e.g. number of light etc. Delivery time 4-6 weeks.
Art Nouveau Park Bench in a Vienna style.
Forged shoehorn in a stylish design.
Giant glass custom made for a Burlesque show in Prague. Suitable for the STAGE, FILM, SHOWS, ART INSTALATIONS etc.
Material plexiglass and iron
Made in the Czech Republic
A forged rose.
Material: copper
Length: 30 cm
GARDEN SPIDER Large Forged Monster.