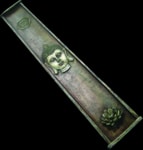 Aromatherapy oils
Incense sticks and cones, holders and lamps.
Incense Cones - Sandalwood from India.
Fill your home with calm and serenity with incense holder, available as part of Nemesis Now's Willow Hall high-quality giftware range. Coloured a calming jade green, the end of the incense holder has a mandala design, a microcosm of the universe. The centre has the serene head of Siddhartha…
Incense Sticks - Dragons Blood
Incense Sticks - Pagan Magic. Import: Great Britain.
AROMATHERAPY LAMP, magic circle. Size approx. 15.5 cm. This product is made from solid resin. Imported from the UK.