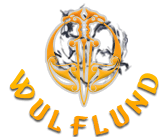 Viking, Slavic, Celtic bracelets - Bronze and Brass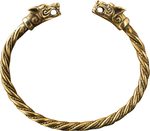 Viking, Slavic, Celtic bracelets - Bronze and Brass
Slavic, Viking and Celtic bracelets - bronze and brass.

Celtic Brass Bracelet inspired by Iron Age Metal Neck Rings known as torques, or torcs, with their donut-shaped terminals.
Material: brass
Adjustable
Dreki Brass Viking Style Bracelet. Design is inspired by the Jellinge Viking art style. Similar dragons can be seen on brooches, rune stones and wooden items. Designed by Kati. Material: brass Terminal: size 25 mm Size varies depending on the wrist size, on average 41 g
Celtic Bronze Bracelet inspired by Iron Age Metal Neck Rings known as torques, or  torcs, with their donut-shaped terminals. material bronze adjustable
Rams - bracelet inspired by the find of originally silver bracelets from Greece, Mesembria-Zoni, Evros (4th century BCE). Material: bronze
Collach Pictish Boar Bronze Bracelet. The design is based on the rock carvings in Dunadd, Scotland. Wild boar is, besides birds of prey, the most frequently depicted animal in Celtic art. This logically indicates that it had a special significance in society. The available archaeological and…
Dragon Draig brass Bracelet with Beast Terminals. Draig is a Welsh name for dragon.
material brass
terminal size 24 mm
Bronze Viking Wolf Fenrir Bracelet. Our design is based on a bracelet found in Burg, the isle of Gotland, Sweden, the head terminals are inspired by the terminals of the Wolf's Cross from Iceland. A beautiful and an original piece of artisan jewelry reflecting history. Material: bronze Size of…
Massive Brass Celtic Bracelet with Cast Bull's Heads. Inspired by an original artefact from Trichtingen, Baden-Württemberg, southwest Germany, 350-100 BCE. Manufactured solely by Wulflund in the land of Celtic Boii tribes (Bohemia), Czech Rep. Material: brass Size of the head 2 x 2…
COLLECTOR'S VIKING BRACELET we designed at the instigation of the History Channel for the cast and the crew of the VIKINGS SERIES. This bracelet is twisted from brass wires, the beast head cast using the lost wax casting method, soldered together, all hand polished. The design is based on the…
GRIFFIN, brass bracelet of our own design. It can be adjusted by bending. Griffin (also griffon or gryphon) is a legendary creature. It has a lion body, tail and back legs, while the wings and head belong to an eagle. Product of Wulflund, copyright. Material: brass
MERIDA, adjustable Celtic bangle with triskelions, a motive used throughout history since the 4th century BCE until today.
Material bronze
Width 1 cm
Massive brass bracelet with bear heads. Bear is believed to be the king of the forest who protects and takes care of all animals, plants and the forest itself. In Slavic mythology god Veles takes on a bear appearance and wields the same powers. Berserkers (or berserks) were champion Norse…
A robust bronze bracelet with bear heads. The Slavic people believed Bear to be the king of the forest who protects and takes care of all the other animals, plants and the forest itself. According to the Slavic mythology it is the God Veles that takes on an appearance of a bear. Material…
MIDGARDSORMR Viking Bronze Bracelet. This viking bracelet with two heads of viking Sea Dragon Jörmungandr is made of hand twisted bronze. The motive is based on Migration Period golden bracteates, Vendel era helmet plates and Germanic Iron Age bird-shaped brooches, e.g. from Uppsala, Valsgärde…
Bronze Bracelet with Celtic Deer. The bracelet is adjustable and very comfortable to wear. Material bronze varies depending on the size
Beautiful Hand Twisted Bronze Viking Bracelet featuring two raven's heads with garnets. One of our most exclusive products. In Norse mythology, Huginn (Thought) and Muninn (Memory) are ravens that soar all over the world (Midgard), and bring information to the god Odin. Huginn and Muninn are…
Viking bracelet from bronze. Design is inspired by a bracelet that was found on the isle of Gotland (Sweden), locality of Burg, the heads are based on the Wolf's Cross from Iceland. Handmade, very comfortable to wear. Material bronze
Large Bronze Bracelet with Bear Heads. Bear is believed to be the king of the forest who protects and takes care of all animals, plants and the forest itself. In Slavic mythology God Veles takes on a bear appearance and wields the same powers. Berserkers, or Berserks, were champion Norse…
Hand Made Twisted Brass Bracelet with Runes. Material brass Please use a message box in the last step of your order to let us know, which runes (from Futhark) you would like to have on your bracelet You can have the same ones or two different ones Your custom order bracelet will take about one…
Dreki Bronze Viking Style Bracelet. The design of the bracelet found inspiration in the viking art style known as Jellinge. Similar dragons can be seen on brooches, rune stones or wooden items. Designed by Kati. Material bronze Terminal size 25 mm Weight varies depending on the size, on average…