HMB - Armour, Body Protection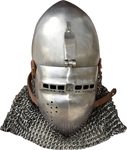 HMB - Armour, Body Protection
We have a selection of suits of armour or individual pieces (helmets, cuirasses, bracers, protection for hands and legs, etc.) for medieval contact fighting (HMB, Buhurt/melee). Each customer has specific requirements for protection and historical accuracy, so just consider the products we already offer as a starting point: we will gladly take orders for bespoke pieces.
Medieval HMB shield. Made of three layers of beech plywood, thickness 3 mm,  overall thickness: 9-10 mm. Size: 71 cm x 37 cm. Coated with linen and trimmed with rawhide.
Klappvisored bascinet, 14th Century. Made from 2.5 mm mild steel, helmet includes padded-liner, and  riveted chainmail aventail. This helmet is made in Ukraine with a long time tradition of HMB (Buhurt).
Soon Available