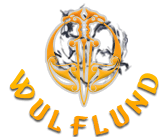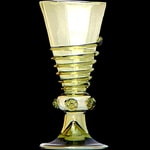 Ceramics, Glass
Handmade Historical Ceramics and Glass; replicas of medieval and Roman oil lamps, Iron Age Pottery (Celtic ceramics), Medieval pottery, Renaissance Ceramics and Glass - dishes, mugs and cups, Slavic Pottery.
Another trade the Czechs have mastered is glassmaking. In particular, the distinctive green historical glass (sometimes called "forest glass") has found a wide circle of admirers. Treat yourself to the beauty of Roman glass bowls and vessels, or Viking glass with its complex ornamentation. We also make medieval Gothic goblets and Renaissance glasses in gift boxes ready to give (or to keep and treasure!).
In addition we have many highly skilled ceramic artists in our country. Even now in the 21st century the cottage industry of historical ceramics (fired in an outdoor wood kiln) is still a living tradition. Go forth into battle with a sword and a shield, and after the battle be of good cheer with mead and ale in a hall illuminated by one of these ceramic oil lamps.
$34.12
Catalogue number: REP147
In stock