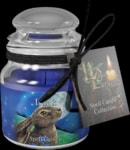 Magic candles
Candle Magic - exporter of ritual candles, folkloric magical, occult candles, spiritual candles, offertory candles, figural candles and votive candles. Our candles are hand-coloured.

These candles are for usage or decoration.
DOMOVOI (or Domowik) is, in Slavic folklore, a house spirit and every house is said to have one. DOMOVOI is a guardian of the house and he sometimes helps with household or field work. He lives under a thresholds or under the stove. It is important to maintain a good relationship with Domovoi…
Luck Spell Candle - Sandalwood. Height: 9 cm. Imported from England.
Protection Spell Candle - Lavender. Size: 9cm.