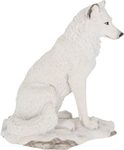 The witches way to smoke.
Cast in the finest resin
Carefully hand-painted
Diameter approx. 18 cm
polyresin
height 21.5 cm
designed in the UK
Wolves - Wardens of the North Bookends, a pair. Import: Great Britain.
Material: resin
Size: 20.3 cm
RAVEN on a Brach statuette painted by hand.

material solid resin
height, width 15 x 12.5 cm
imported from the UK
Head of the Wolf. Size: 22 cm approx. This product is made from solid resin. Imported from the UK.