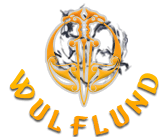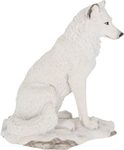 See No, Hear No, Speak No Evil Emperor Penguin Chick Figurines. Free Wise Penguins: These three baby Emperor penguins are sitting on the ground with there little claws poking out from beneath their plump bodies. One clasps their wings over their mouth, one blocks their ears, and the other covers…
Raven's Call Figurine Gothic Bird Ornament This piece looks as though it has risen from the pages of Edgar Allen Poe's poems and is available from Nemesis Now's extensive Gothic Fantasy Wholesale Giftware Collection. This black Raven menacingly sits atop a thick, moss covered branch, claws gently…
Reapers Canine. This is the canine companion of the Grim Reaper. The black pup has brown eyes with a matching brown collar, attached to the collar are small skull charms which are also attached to dog's feet. The pup wears a shroud to match that of his master. This little thing truly is Death's…
Wolves - Wardens of the North Bookends, a pair. Import: Great Britain.
Material: resin
Size: 20.3 cm
RAVEN on a Brach statuette painted by hand.

material solid resin
height, width 15 x 12.5 cm
imported from the UK
Head of the Wolf. Size: 22 cm approx. This product is made from solid resin. Imported from the UK.