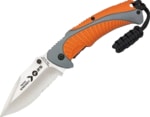 Swiss army knives
Victorinox - Swiss knife manufacturer based in the town of Ibach, Switzerland. The company was founded in 1884.
Mikov - traditional Czech manufacturer.
Knife EF713 Fixed Blade Elite Force.
Sheath included
Blade length: 115 mm
Handle length: 135 mm
Total length: 227 mm
Weight: 210 g
Knife Evo Mid Folder Gerber. Blade length: 80 mm Handle length: 103 mm Total length: 183 mm Weight: 70 g About Gerber:  Established in 1939 in Portland, Oregon, USA, Gerber is an American focusing to give hunters, soldiers, survivalist and tradesmen the tool they need. All their products are…
GET READY AND SURVIVE! This unique Gerber kit will surely be the perfect helper in your struggle for survival. The Gator Bolo machete , the Gerber Fire starter, and the Gator EAB hand saw with the stylish Airlift Black fastener create four tools to conquer almost every obstacle. You cut your way,…
Established in 1994 CRKT® (Columbia River Knife and Tool®) from the beginning was putting innovation and reliability at first. Thanks to a collaboration with the best designers in the world they make knives and tools with inspire and endure the hardest work. Their goal is to make products that are…
Serrated Tanto Neck Knife Schrade.
Blade length: 70 mm
Handle length: 80 mm
Total length: 150 mm
Weight: 80 g
SCHF57 Fixed Blade, Schrade
Blade length: 65 mm
Handle length: 95 mm
Total length: 160 mm
This Italian-made pocket knife has the original format of a 12 gauge shotgun shell, the slip-joint blade is stainless. Type:     Pocket Knife Total Length:     11,4 cm Blade Length:     4,7 cm Blade Thickness:     1,7 mm Weight:     32,0 g Lock:     Slipjoint Opener:     Nail Nick Assisted…
This is a modern interpretation of the classic Scottish stocking knife. Handle Material: Micarta Blade Material: 440 Stainless Steel Blade Length (cm): 11.8 Blade Thickness (cm): 0.44 Overall Length (cm): 22.8 Blade Type: Plain Sheath: Leather Product Weight (g): 176
Magnum Caveman Damascus knife.
Material of the blade: Damascus steel
Material of the handle: wood
Overall length: 19.4 cm
Blade: 8.2 cm
Width of the blade: 2.7 cm
Weight: 209 g