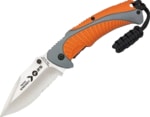 Swiss army knives
Victorinox - Swiss knife manufacturer based in the town of Ibach, Switzerland. The company was founded in 1884.
Mikov - traditional Czech manufacturer.
GET READY AND SURVIVE! This unique Gerber kit will surely be the perfect helper in your struggle for survival. The Gator Bolo machete , the Gerber Fire starter, and the Gator EAB hand saw with the stylish Airlift Black fastener create four tools to conquer almost every obstacle. You cut your way,…
Established in 1994 CRKT® (Columbia River Knife and Tool®) from the beginning was putting innovation and reliability at first. Thanks to a collaboration with the best designers in the world they make knives and tools with inspire and endure the hardest work. Their goal is to make products that are…
Serrated Tanto Neck Knife Schrade.
Blade length: 70 mm
Handle length: 80 mm
Total length: 150 mm
Weight: 80 g
SCHF57 Fixed Blade, Schrade
Blade length: 65 mm
Handle length: 95 mm
Total length: 160 mm
With this robust and reliable throwing knife set even ambitious user will increase their accuracy. The full steel construction of 420 stainless steel is extremely well balanced. Type: Throwing Knife Total Length: 26 cm Blade Length: 15,4 cm Weight: 196 g Blade Material: 420 stainless steel …
This Italian-made pocket knife has the original format of a 12 gauge shotgun shell, the slip-joint blade is stainless. Type:     Pocket Knife Total Length:     11,4 cm Blade Length:     4,7 cm Blade Thickness:     1,7 mm Weight:     32,0 g Lock:     Slipjoint Opener:     Nail Nick Assisted…
An interesting replica of a 30-06 bullet with a compact and functional blade. A great gift for the hunter or collector. Features a 440 stainless steel blade and brass coated shell. Type: Pocket Knife Total Length: 12,1 cm Blade Length: 4,2 cm Blade Thickness: 1,6 mm Weight: 38,0 g Blade…
The K25 Energy Outdoor compels with its outstanding value for money. The 7Cr17MoV blade with a hardness of 56-58 HRC provides high edge-holding properties. The handle is made from light-weight aluminum and features an orange-colored plastic inlay that increases a grip. The liner lock secures…
This rugged work knife will stand up to any cutting chore. The handle is a combination of satin finished stainless steel and an elegant grained wood. The straight spearpoint blade is made of 440 stainless steel and is secured by a reliable liner lock. Includes pocket clip. Type: Pocket Knife …
Magnum WOODCRAFT knife by Böker, Germany. Magnum by Böker-Knives of this series are unsurpassed by the price-performance ratio.  Material of the blade: 440-A Material of the handle: wood Overall length: 20.7 cm Blade: 8.3 cm Width of the blade: 3 cm Weight: 214 g
This special edition is based on one of our top sellers, the Elk Hunter model. However, this new version features ebony wood and durable rosewood as grip scales. The satin-finished 440A steel blade is thinly ground. This attractive knife also includes an elaborate leather sheath with pushbutton…
Due to its special construction of the blade bearing, this extravagant knife has a very individual appearance. The strong 440 stainless steel blade rotates around the extremely stable bearing and is securely locked by the liner lock mechanism. The excellent grip is guaranteed by the stainless…
Böker Plus Strike Tanto - knife.
Material of the blade: AUS-8
Material of the handle: aluminium
Overall length: 20.1 cm
Blade: 8.5 cm
Width of the blade: 3 cm
Weight: 190 g
Böker Plus Piranha - knife.
Material of the blade: 440-C
Material of the handle: G-10
Overall length 15.5 cm
Blade: 7.5 cm
Thickness of the blade: 3.9 cm
Weight: 101 g
This is a modern interpretation of the classic Scottish stocking knife. Handle Material: Micarta Blade Material: 440 Stainless Steel Blade Length (cm): 11.8 Blade Thickness (cm): 0.44 Overall Length (cm): 22.8 Blade Type: Plain Sheath: Leather Product Weight (g): 176
Magnum Firefighter knife.
Overall length: 20.8 cm
Blade: 9 cm
Width of the blade: 3.3 cm
Weight: 249 g
Material of the blade: 440-A
Material of the handle: G-10
Magnum Caveman Damascus knife.
Material of the blade: Damascus steel
Material of the handle: wood
Overall length: 19.4 cm
Blade: 8.2 cm
Width of the blade: 2.7 cm
Weight: 209 g
Magnum BLACK SPEAR knife by Böker, Germany. This tactical tool will handle all missions! Modified 440 Spear Blade with Effective Particulate Edge for Gross Handling. Linerlock provides the necessary security. More distinctive finger grooves on black aluminium grips are for a high level of safety…
Curved blade folding knife - from Mikov. Blade Material: Stainless Steel 420 - 55HRC Material of handle: plastic Length: 118 mm Blade length: 80 mm Blade width: 25 mm Product weight: 156 g
Curved blade folding knife - from Mikov. Blade Material: Stainless Steel 420 - 55HRC Material of handle: plastic Length: 65 mm Blade length: 40 mm Blade width: 10 mm Product weight: 65 g