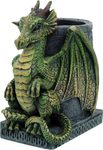 Pagan decorations
Exterior and interior accessories. Decorative items for restaurants, bars and pubs. Wooden furniture with antlers. Carved wooden period furniture.
The design of the King's armour can be seen in the Gulhausen kodex.  Premysl Ottokar II (1233 – 26. August 1278) a Czech king, was also called The Iron and Golden King.  He was the Duke of Austria, Styria, Carniola and Carinthia.  He died during the Battle on the Marchfeld. Size: A3
Odin is associated with healing, death, royalty, the gallows, knowledge, battle, sorcery, poetry, frenzy, and the runic alphabet, he is the husband of the goddess Frigg. He gave one of his eyes in return for wisdom - the kowledge of runes.  Odin will fight the monstrous wolf Fenrir during the great…
Oak man in beautiful autumn colours.
OUROBOROS, or uroborus, a dragon or serpant eating its own tail, originated in ancient Egyptian iconography and was adopted as a symbol in Gnosticism and Hermeticism and mainly alchemy; a symbol of a cyclical nature of the universe. The famous ouroboros drawing from the early alchemical text, The…
Puzzle with a Czech Lion.
VELES, Slavic God. Veles (also known as Volos) is a major Slavic God of Earth, Water and the Underworld.  He is mostly associated with cattle, musicians, wealth, magic and trickery. Detailed design
AGAINST ALL. The Hussites were a protestant movement following the teachings of Czech reformer Jan Hus who was burned for this teaching by the spoiled Roman catholic church in Konstanz. After his death there was a large rebellion within the Czech lands (also in the southern parts of Poland) that…
PREPPER - Apocalypse is Coming.
Snowglobe with a unicorn.
material resin, glass
hand painted
height 13.5 cm
imported from the UK
Three wise Snowy owls portraying Confucius' idea see no evil, hear no evil and speak no evil.
material resin
hand painted
height 20 cm
directly imported from the UK
Crystal Ball Holder with the Egyptian Cat.
material resin
hand painted
width 12.7 cm
ball is not included
Each side of the cup has a small patent red background which sits under a raised pentagram, the words Solve and Coagula adorn its outer circle. Atop this is the head of a triple-horned Sabbatic Goat with a pentagram raised from its skull. Above the head, a pair of crescent moons sit while below it,…
BOX of the Brave for your precious items. material resin length 12.5 cm width 9.5 cm height 6 cm weight 500 g imported from the UK
Armoured SHOT GLASSES in a set of 4 pieces. material resin, stainless steel height 6.5 cm dishwasher-safe stainless-steel insert imported from the UK
ROSE from the DEAD GOBLET.
material resin, stainless steel
height 18.5 cm
weight 350 g
removable stainless steel insert
imported from the UK
Zen Meditation Garden that includes the base, a Budha, white sand, a rake, the green lotus, assorted peblbes and the stone tea ligth holder. diameter 21.5 cm total weight 1.25 kg