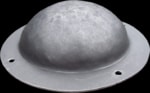 Shield bosses
Shield bosses (umbo) for viking shields, Roman shields or medieval shields.
Handmade replica of a Germanic Shield Boss. Thickness of the material: 2.5 - 3.0 mm.
UMBO, ROMAN SHIELD BOSS, Hexagonal. Size: 13 cm diameter of umbo boss (space for hand). Overall size circa: 20 x 25,5 cm. 2 mm thick iron plate. Handmade.
Special shield boss for re-enactors. Shield Boss of Germanic Type for attaching to your shield. Size: cca 19.5 cm in a diameter, 1 mm thick.
Hand hammered (cold way) shield boss.
Material: iron.
Size cca 19 cm in a diameter.
Thickness: 2 mm.
Weight: 440 grams.