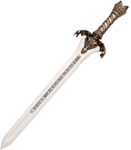 Swords - film, fantasy
Replicas of the film, mythological and fantasy swords. Besides our own production we cooperate with swordmasters from Spanish Toledo.
TOMAHAWK for Cosplay Decorative Replica, not suitable for fighting or woodwork. Material: iron, wood, leather, string Weight: 480 g  Length: 37 cm
Elvish Sword Decorative Replica.
total length 97 cm
blade length 77 cm
Templar Sword from high quality Toledo steel with velvet handle.
Toledo Steel Sword, sharp decorative replica.
overall length: 116 cm
made in Spain