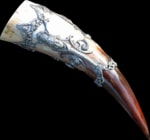 Drinking horns
Celtic and Viking drinking horns with engraved patterns. Each horn can be accessorized with a leather holder or a forged stand. If you don't care for the ones in stock we can also decorate horns according to your desire.
Each horn is a unique product of Nature and it is not always possible to supply one that looks just like the photograph.
Do not put hot liquids (above 60 °C) into your horn. Wash with cold or tepid water, but do not wash in a dishwasher! Clean it gently without the use of sharp or rough scrubbing objects. The horns' inside surface has been treated with a special colourless food-safe lacquer.
$55.45
Catalogue number: BED514
In stock
$20.26
$18.13
Catalogue number: DHO784
In stock