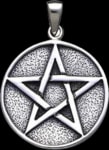 Magic
Pagan Shop, Witchcraft Shop, Occult Store.

We offer Wiccan, Magician and Witchcraft supplies such as chalices, pagan jewelry, magic crystals and gemstones, pentacles, celtic designs, herbs, magic candles, wands, runes, books of shadows, spell supplies, pentagram pendants.

Magic is tightly connected with paganism and mythology. In present times our pagan Gods are getting stronger and stronger every day - the future is Theirs!
So called Troll Cross is a strong protective symbol of the old Scandinavian folklore. It protects people, animals and homes against evil and it will help you in a forrest if you encounter trolls and other unfriendly creatures. The pendant is based on the rune called Othila, a strong Germanic…
No piece of jewellery is ordinary and the most valuable of them should fulfill at least the following criteria: high quality of craftsmanship, careful choice of materials and an original and interesting design. We dare say this jewel meets them all and has even more. It contains history and a soul…
Troll Cross Bronze Pendant amulet in a shape of Odal rune,  originally used to be worn as a protection against Trolls.
Material: bronze
Size: 2.2 x 3.2 cm
Gothic Tarot Cards by Lisa Parker.
78 detailed cards and guidebook
each card shows a different character, from Skulls to Dragons, Dark Angels to Gothic Beauties
Keepsake box with the Celtic God of the Forest.
material resin
hand painted
length 15.5 cm
height 6 cm
inside space 14 x 7 cm
directly imported from the UK
DOMOVOI (or Domowik) is, in Slavic folklore, a house spirit and every house is said to have one. DOMOVOI is a guardian of the house and he sometimes helps with household or field work. He lives under a thresholds or under the stove. It is important to maintain a good relationship with Domovoi…
Crystal glass prophetic item. Will it show your future?
11 cm diameter
import: England
Amethyst Rune Set consisting of 24 tumbled, polished amethyst gemstone runes handcrafted with engraved, painted lettering. Runes are typically used as divination tool to obtain information from the higher self. Material amethyst Elder Futhark - 24 runes Pouch is not included
Incense Cones - Sandalwood from India.
Altar Cloth Moon Gazing Hare.
Size: 87 cm
Designer: Lisa Parker
Imported from UK
Fill your home with calm and serenity with incense holder, available as part of Nemesis Now's Willow Hall high-quality giftware range. Coloured a calming jade green, the end of the incense holder has a mandala design, a microcosm of the universe. The centre has the serene head of Siddhartha…
Zombie Cat Sign.
Material metal
Size: 43 x 28 cm
Imported from the UK
Zombie Dog Sign.
Material metal
Size: 43 x 28 cm
Imported from the UK
Warning Bio Hazard Sign.
Material metal
Size 42 x 28 cm
Imported from the UK
Keep Out - Undead Inside Sign.
Materia metal
Size 30cm
Imported from England
Luck Spell Candle - Sandalwood. Height: 9 cm. Imported from England.
Protection Spell Candle - Lavender. Size: 9cm.
Incense Sticks - Dragons Blood
Incense Sticks - Pagan Magic. Import: Great Britain.
Incense Sticks - Aphrodisia. Import: Great Britain.