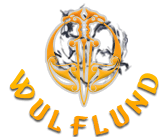 bracelets - historical jewelry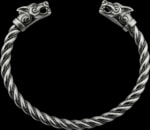 Bracelets - historical jewelry
Silver bracelets - historical jewelry. Roman, Greek, Celtic, Viking, Medieval, Renaissance.
A large and heavy silver viking bracelet. It is a replica of a real bracelet found on the isle of Gotland (Sweden), locality of Burg, that was crafted by twisting of silver rods of various lengths and fitted with stylized wolf's or dragon's heads. If you are looking for a unique piece of…
Sterling silver bracelet with snake heads.
Hand made braided viking bracelet with wolf heads. The heads are designed in the style of the Wolf Cross - Thor's hammer from Iceland. Material: sterling silver Weight of the beast head 9 g Weight of the bracelet varies according to size, 9.5 g for 19 cm circumference
Hand made braided viking bracelet with dragon's heads. Design inspired by the Jellinge viking art style. Similar dragons can be seen on brooches, rune stones or wooden items. Designed by Kati. Material: sterling silver Weight of beast head 9 g/pc Weight varies, 19 g for 19 cm wrist circumference…
Hand made Braided Viking Silver Bracelet with Wolf Head Terminals, the beast heads of our own original  design in the style of the Wolf Cross - Thor's hammer from Iceland. Material: sterling silver Weight of the beast head 9 g Weight of the bracelet varies according to size, 19 g for 19 cm wrist…
Collach - a sterling silver Pictish style bracelet. Design inspired by Scottish (Dunadd) Pictish Art. Designed by Kati. Material sterling silver Weight approx. 55 g
Dreki Sterling Silver Viking Style Bracelet nspired by the Jellinge Viking art style. Similar dragons can be seen on brooches, rune stones or wooden items. Designed by Kati. Material sterling silver Weight approx. 50 g depending on the size
Rams - bracelet inspired by the find of originally silver bracelets from Greece, Mesembria-Zoni, Evros (4th century BCE). Material: sterling silver
COLLECTOR'S VIKING BRACELET we designed at the instigation of the History Channel for the cast and the crew of the VIKINGS SERIES. The bracelet is twisted from silver wires, the beast head cast using lost wax casting method, soldered, all hand polished. The design is based on the carved dragon…
GRIFFIN, silver bracelet of our own design. It can be adjusted by bending. Griffin (also griffon or gryphon) is a legendary creature. It has a lion body, tail and back legs, while the wings and head belong to an eagle. Product of Wulflund, copyright. Material: sterling silver Weight varies…
Viking Bracelet with Two-Headed Sea Dragon Jörmungandr from Hand Twisted Silver. The motive is based on Migration Period golden bracteates, Vendel era helmet plates and Germanic Iron Age bird-shaped brooches from Uppsala, Valsgärde or Sutton Hoo. Material: sterling silver The size of…
This beautiful hand twisted silver viking bracelet features two raven heads with red garnets. This is one of Wulflund's most exclusive products. In Norse mythology, Huginn (Thought) and Muninn (Memory) are ravens that soar all over the world (Midgard), and bring information to the god Odin.…
Large Silver Bracelet with Bear Heads. Bear is believed to be the king of the forest who protects and takes care of all animals, plants and the forest itself. In Slavic mythology God Veles takes on a bear appearance and wields the creatures powers. Berserkers (or berserks) were champion Norse…
Sterling Silver Bracelet with Two Garnet Cabochons inspired by the desing of Celtic torcs, rigid metal neck rings. Hand made by twisting silver wires. A BEAUTIFUL TIMLESS jewel for both women and men. Material sterling silver, garnet - almandine Garnet size 8 mm in diameter
FIANNA, Celtic Deer, silver bracelet. Many stories of the Celts are conencted with deer. In some Scottish and Irish tales deer are seen as "fairy cattle" and are herded and milked by a tutelary, benevolent, otherworldly woman (such as goddess Flidais), who can shapeshift into the form of a red or…
Hand Made Braided Viking Bracelet with Stylized Viking Raven Heads. Inspiration was the Thor's hammer from Sweden (Scania). Material sterling silver Weight varies depending on the size, weight for wrist circumference 14 cm approx. 19 g
Cat Sterling Silver Bracelet in a Celtic style. Designed by south Bohemian artist - Kati. Material sterling silver Weight of the bracelet in the photo approx. 36.7 g Size depending the wrist circumference
Viking silver bracelet with raven heads. Design is inspired by the Bamberg Casket dated to cca 975. The casket is made of oak, walrus ivory, gilded copper and rock crystal and is exhibited in the Bavaria National Museum in Munich, Germany. Material: sterling silver
Hand made Celtic bracelet. Shape of its terminals is derived from the torcs (torques), neck rigid rings of the ancient kings, warriors and druids. The bracelet is made of twisted sterling silver rods allowing for the size of a bracelet to be adjustable. Material sterling silver Weight depends…