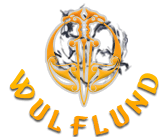 SPECIAL OFFER, discounts
In this category, you can find currently stocked goods that we consider especially interesting and worth more detailed inspection. Most goods here are our own production (some are imported) and we can offer them at competitive prices. In any case, reduced price does not mean lower quality.
Slavic Wolf, Czech-Serbian cooperation. The author of the design is Saša Ristic.
Ко се с' вуком качи, добије цео чопор!
Who mess with the Wolf, gets the whole Pack!
Material: bronze
Size: 3.4 cm
Battle Ready Single Handed Viking Sword. material high carbon spring steel 54SiCr6, hardness 50 -52 HRC, leather weight 1.3 kg overall size 88 cm length of blade 72 cm width of blade 4.7 cm width of guard 9 cm point of balance approx. 14 cm below the guard weight 1,5 kg
CZECH LION - large silver pendant which symbolizes the Czech statehood. Symbol of the double-tailed lion is the old heradlic symbol of Bohemia.  The facial expression of this lion is not a mute national symbol, it overflows with pride, fighting spirit and the proper portion of anger.  Today the…
SLAVIC SVARGA (the Sun), a symbol of the god Svarog - the God of the Heavenly Light and Fire. Material: sterling silver  Weight: approx. 4.5 g Diameter: approx. 3 cm plus 4 x 7 mm eyelet
No piece of jewellery is ordinary and the most valuable of them should fulfill at least the following criteria: high quality of craftsmanship, careful choice of materials and an original and interesting design. We dare say this jewel meets them all and has even more. It contains history and a soul…
Silver Ring with Viking Wolf Heads. Our design of the wolf's head is inspired by the Wolf's Cross, a Thor's Hammer found in Fossi, Iceland, 10th-11th century. We stock several sizes, please let us know the required size. The ring is adjustable. Material: sterling silver Weight: 4 - 5 g …
FENRIR, VIKING WOLF, T-shirt.
Detailed design
Quality print
Gildan T-shirt (US company)
Printed in the Czech Republic
Leather Viking High Shoes with antler buttons. Material - top: 2.5-3.5 mm thick cow-hide, hand painted Sole: 4 mm pressed cow-hide, glued rubber layer, heel Advantages: These shoes are mostly in stock Shoes are manufactured by a local well-known Czech shoemaker of historical shoes, and are sold…
Fencing Glove (Leather Combat Gauntlet) of exceptional quality to reduce the risk of injury of the hand during sword combat. Made by fencers for the fencers Great emphasis has been placed on the thickness of the material and the anatomy of the glove so you can grip your sword easily Price is for…
Gorget and Pauldrons, two of the essential parts of medieval armour.
Width of the metal: 1.2 - 1.5 mm
Romanesque Single Handed Sword inspired by Sigvinais Type Bohemian sword (deposited at Military museum of Prague, collection number 237). Sword is BLUNT and designed for historical fencing, quality leather grip, low weight. Material: spring steel 54SiCr6  Overall length: 92 cm Blade length: 78 cm…
Hand Forged Viking Axe, SHARP for decoration/BLUNT for re-enactment. Overall length: 70 cm Axe head: 18.5 cm x 14 cm For safety reasons it is necessary to treat the axe with a water or linen oil so the wood won't get dry and the head won't get loose
Fenrir the Viking Wolf Silver Pendant is one of our most distinguished products. The design is inspired by the Borre Viking art style (named after the locality in Norway, 9th-10th century). Fenrir is, according to the Norse mythology, the eldest son of the God Loki and the Giantess Angrboda.…
This Celtic ring is a perfect museum replica of a Celtic ring that was found in Central Europe. It was worn by a member of the Boii tribes (la Tene Culture). We used the original artifact to create a mould for this unique piece of historical jewelry. Material: sterling silver One size: 18.5 mm/US…
Silver Pendant. Material: silver (925) with Paua Shell. Weight circa 10.5 g. Size circa 4 x 6.5 cm.
Manufacturer: The Mountain, USA.
Manufacturer: The Mountain, USA.
A unique wolf pendant with a bail. Wolf symbolizes not only independence but also a life within a family or a community and the quality of being loyal. It can be interpreted as a symbol of a fight for survival and a journey of self-discovery. Material: sterling silver Size: 2.8 x 3 cm Weight:…
Collach Brass Bracelet with Pictish Boars. The design is inspired by the rock carvings in Scotland (Dunadd) created by the Picts sometime during the Late Iron Age and Early Medieval periods. Boar was revered, especially by the Celts, for its strength, perseverance and courage.
Brass Viking Wolf Bracelet. The design is inspired by a bracelet found in Burg, the isle of Gotland, Sweden, the head terminals are based on the terminals of the Wolf's Cross from Iceland. A beautiful piece of art reflecting history. Material: brass Size of the head: approx. 20 × 10 × 10 mm