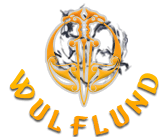 Viking, Slavic, medieval statues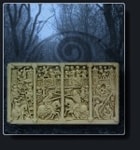 Viking, Slavic, medieval statues
Replicas of sculptures from the Viking Age to the High Middle Ages. The Vikings (8th – 11th centuries) had unusually skilful artisans who worked with rich, flowing, ever-changing geometrical, animal (including mythological animals) and floral forms. One of their hallmarks were their rune letters, which were usually carved into stone, but all kinds of texts have been found on metal, bone and wooden objects. Wood was abundant and easy to work with and the art of wood carving was highly developed, but we can also find magnificent artworks made from other materials, such as engraved drinking horns or blowing horns. On the European continent, particularly in the Western part, only reliefs - and not freestanding statues - were carved. Or at least there remains no record of such statues, especially not any wooden ones, which may have deteriorated.
The expansion of Christianity had a profound effect on European artwork, though chthonic beings and other spiritual motifs and ornamental styles from the period of the pagan Migration Period persisted in the peripheries. The era of Charlemagne (Carolingian Period, approximately 9th - 10th centuries) is associated not only with the further development of Christian plastic arts and painting, but also with the return of sculptural renderings of common people and their lords carved into common materials - or even uncommon ones, such as ivory embellished with gold. Medieval artists drew inspiration not only from antiquity but also from the Byzantine Empire.
The Romanesque style that emerged around the year 1000 along with the increasing wealth and development of trade utilized sculptures and reliefs mainly only as complementary decorations for architecture. The Gothic period added statues of madonnas and pietàs that attempted to capture unsettled mental states. Stone carving remained an accessory to architecture, and most free standing sculptures were made from wood. The exceptions to this rule were stone or alabaster statues on the graves of wealthy people. The Renaissance and Baroque eras then witnessed the further development of (mainly) Christian motifs and ever more masterful working of materials. Notably, Italian sculpture began to be generously supported by the state, and the public could gaze at both public art and works exhibited by private patrons. In the Renaissance glyptics (the art of engraving not only gemstones, but also shells, mother of pearl and glass) was revived and cameo carvings once again adorned various types of jewellery and brooches or fibulae. Previously, when most of the cameos found in Europe had been imported from Byzantium, they usually served as decorations for book bindings, reliquaries and other objects.