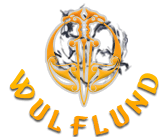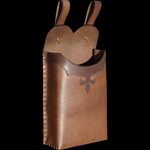 Equipment for archery
Archery - accessories and protective gear for historic archery. Maybe you're looking for a leather quiver, archery bracers, tabs (protection for your fingers), targets, or - for the do-it-yourselfers among our customers - we have bowstrings and feathers to fletch your own arrows.
Hand Sewn Leather QUIVER with Fur for CROSSBOW Bolts (Quarrels).

material leather, boar fur
total height 33 cm
for attaching to a belt up to 8 cm wide
diameter 8.5 cm
Straw Archery Target.
Diameter: 80 cm
6cm thick
Leather Quiver for Arrows.
lenght of longer side 70 cm
lenght of smaller side 60 cm
size of base approx. 10 x 6 cm
lenght of strap is adjustable 88-96 cm
Handcrafted Straw Target Butt for traditional archery.
Diameter: 80cm
Thickness: 8 cm
High quality leather tab for archery. Size approx. 8 x 10 cm.
material leather
diameter 11.5 cm
opening for each arrow 1 cm
Leather Engraved Quiver with Pouch for wearing on the side of the body.
size approx. 54 cm
diameter approx. 10 cm
size of pouch approx. 8 x 13 cm
Celtic Hand Engraved Leather Quiver for 12 - 16 arrows. The engraved motif is featured on Celtic gold-plated bronze disc from Auvers-sur-Oise/, Val-d Oise, dated to early 4th century of the Old Age, now on display at the Cabinet des Médailles of the Bibliothèque Nationale in Paris. …
Leather Quiver for 12-16 arrows. Can be worn on your back and side. To wear on your side use the top opening to attach to your belt, you can use the bottom opening to lace through a cord to tie to your leg (a suggestion by a Hungarian archerer). material cowhide over the shoulder strap …
Archery Bracer designed to be very practical, not a historical item. size cca 17 x 21 cm made of two layers of hard leather sewn together upper layer is very smooth to minimalize frction special system of lacing so you can tie with one hand only
Very good for frequent practise shoting.
Arrow shaft: split spurce or pine wood
Size of arrow: 70-72 cm
Goose fletchings
Archery Leather Brace for Traditional Archery.
Simple Leather Crossbow Quiver to be worn on a belt designed for sharp arrows.
height 32 cm
bottom diameter 9 cm
Leather Belt Crossbow Quiver.
material cowhide
height 24 cm
for arows approx. 27-31 cm long
size 6 x 16 x 32 cm
strengthened bottom
Leather Quiver Decorated with Boar Fur.
Universal Quiver from quality hard leather. You can wear it on your back or use belt strap and bottom string to attach to your waist and leg to keep quiver in a fixed position while on the move. Special side pocket is very suitable for things like steel and flint, fishing hooks, sharpening…
Leather Quiver for 13 - 16 arrows. material cowhide over the shoulder strap strengthened bottom for protection against sharp arrows length 62 cm top diameter 9 cm