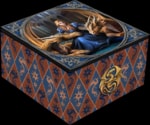 Boxes, pencil cases
Tarot card boxes, jewellery boxes, pencil cases.
The Charmed One Box (LP) 14.5cm The Charmed One Cat Box by Lisa Parker 14.5cm Weight: 0.74kg Material: Polyresin From the magical artwork of Lisa Parker Based on her Charmed One Artwork Cast in the finest resin Lovingly hand-painted
Featuring the face of the Green Man on the lid.
Spacious yet stylish.
Size: 10 cm
Cast in high-quality resin.
Painstakingly hand-painted.
Imported from England
material polyresin
hand-painted
length 17.5 cm
weight 1.3 kg
BOX of the Brave for your precious items. material resin length 12.5 cm width 9.5 cm height 6 cm weight 500 g imported from the UK
DRAGON SKULL, openable box. Size approx. 20 cm. This product is made from solid resin. Imported from the UK.