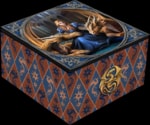 Boxes, pencil cases
Tarot card boxes, jewellery boxes, pencil cases.
Pagan Triple Moon Goddess Box representing the cycle of life and rebirth.
Cast in high-quality resin
Painstakingly hand-painted
Diameter 9.5 cm
Beautifully crafted Tree Spirit trinket box. Cast in the finest resin Bronze finish Celtic designs cover the sides Diameter approx. 9.5 cm
Keepsake box with dragon eye and Celtic patterns.
material polyresin
width 16.5 cm
height lid excl. 4 cm
weight 0.84 kg
Mirror box by Anne Stokes.
Material MDF, mirror
Size 10 cm
Weight 200 g
Imported from the UK
Mirror Box made of compisite wood, covered in a printed material featuring artwork from Anne Stokes, lined with a velvet effect material, with a mirror on the inside of the lid. size 10cm × 10cm mirror size 7cm × 7cm Imported from the UK
DRAGON SKULL, openable box. Size approx. 20 cm. This product is made from solid resin. Imported from the UK.